Stars attend Marvin Hamlisch funeral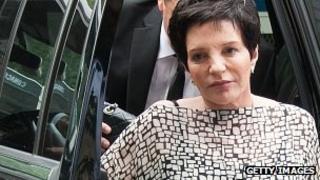 Friends of Marvin Hamlisch have gathered in New York to pay respects to the composer, who died last week.
Liza Minnelli, Richard Gere and former President Bill Clinton were among those attending the funeral, where Hamlisch was hailed "the people's composer".
Other guests included Bette Midler, actor Tony Danza and chat show host Regis Philbin.
Statements of mourning were read from President Barack Obama and former first lady Nancy Reagan.
President Clinton called Hamlisch, whose casket was covered in his favourite yellow freesias, a "great, giving genius".
"Genius is rare enough, but a good-hearted genius is rarer still. A good-hearted, humble and hilarious genius is almost unheard of," he said.
A hearse outside the service was decorated with bright yellow flowers and lollipops, in reference to Lesley Gore's hit single "Sunshine, Lollipops and Rainbows," which Hamlisch wrote.
A choir that included fellow composers, lyricists and musicians such as Lucie Arnaz and Sheldon Harnick, sang Hamlisch songs The Way We Were and What I Did for Love, from A Chorus Line.
Broadway and Glee star Idina Menzel also sang At The Ballet.
Readings included a poem by Hayyim Nahman Bialik, who wrote: "Oh, he had one more melody, and now that melody is lost forever, lost forever."
Hamlisch's wife of 26 years, Terre, shared memories of her husband, remarking that his "life force was huge".
"Marvin taught me how to live life with gusto and magic," she said.
"He would order every dessert on the menu so everyone could taste everything and miss nothing in life."
The composer's funeral was held at Congregation Emanu-El, a Manhattan synagogue where legendary songwriter George Gershwin's funeral was held in 1937.
Hamlisch wrote musid for films including The Sting and The Way We Were. Across his career, he earned three Academy Awards, one Tony, four Grammys and four Emmys, as well as the Pulitzer Prize.