Jeremy Hunt considers biennial culture festival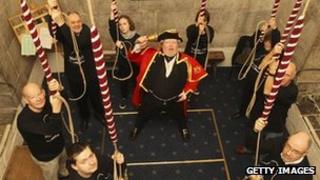 Culture secretary Jeremy Hunt has commissioned a feasibility study to find out if staging a new biennial arts festival in the UK is viable.
In a speech at Tate Modern Hunt said he wanted to build on the London 2012 Festival, "surely the biggest and best Cultural Olympiad ever".
London 2012 chair Tony Hall and director Ruth Mackenzie will report back to Mr Hunt on its feasibility.
Mr Hunt said it could be either "a London or UK-wide arts festival".
"We are delighted that the Secretary of State has asked the Cultural Olympiad board to find a way to create a lasting legacy from the London 2012 Festival," said Mr Hall.
He said London 2012 events had been enjoyed by around 10 million people across the country, with a month of the festival still to run.
Organisers said it had reached more than 12 million people, based on ticket sales, attendance figures and surveys of the UK population.
Approximately 2.9 million people took part in a mass bell-ringing session on the opening day of the Olympic Games.
A further 9.6 million visited free events like Radio 1's Hackney Weekend and those held at the Tate Modern's newly opened oil tank spaces.
Figures from venues showed 2.5 million people had been to paid-for events such as the BBC Proms and exhibitions of art by David Hockney and Damien Hirst.
London Mayor Boris Johnson said he was "delighted that work is now starting to explore how the festival might evolve in the future".
Events still to come include the Unlimited Festival, to showcase the work of nearly 200 disabled and deaf artists at the Southbank Centre in London.