Organist Carlo Curley dies aged 59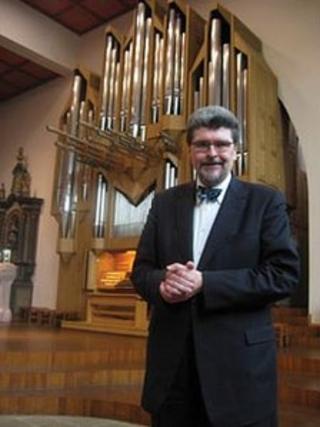 International concert organist Carlo Curley, known as "the Pavarotti of the organ", has died aged 59.
A message on his website called his death "a huge loss for us all, and for the organ community".
Curley was well known for appearances on BBC TV and radio, including organ spectaculars from Cathedrals in Guildford, Gloucester and Norwich.
He was the first classical organist to give a solo recital at the White House, invited by US President Jimmy Carter.
In an interview with Radio 2 last year, he talked about his mission to popularise the classics and relived a concert in London's Alexandra Palace that saw him drive down the centre of the hall in a Cadillac.
Curley was born into a musical family in 1952 and attended the North Carolina School of the Arts, later studying with two of the world's greatest organists, America's legendary Virgil Fox and British player Sir George Thalben-Ball.
His charismatic personality and imagination meant he was one of the few organists to be known by name and reputation outside of the classical music world and played regularly across the globe on sell out tours, to a large and loyal following.
Curley's autobiography In The Pipeline was published by HarperCollins in 1998.
He also played before several members of European royalty, including the Princess Royal, the late Princess Grace of Monaco and the Danish Royal Family.