Locarno Film Festival honours Jean-Claude Brisseau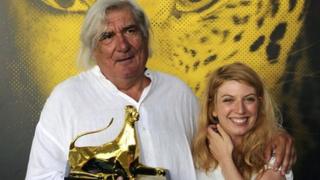 French director Jean-Claude Brisseau's low-budget drama La Fille de Nulle Part (The Girl From Nowhere) has been awarded the Locarno Film Festival's Golden Leopard prize.
Brisseau said he made the film "with nothing" and was "very touched" it had been selected.
Bob Byington's comedy Somebody Up There Likes Me won The Special Jury Prize.
The awards were announced at the closing ceremony of the Swiss film festival's 65th event.
Brisseau used his own savings to make The Girl From Nowhere on a budget of just 62,000 euros (£48,600), according to Hollywood Reporter.
The director's Paris apartment acted as the film set and he used just one camera, transported in a baby carriage to cut costs and "break with the prison of the traditional film production".
"I wanted to make a little film with nothing," Brisseau told the audience at the Piazza Grande.
"There was even no sound engineer to find out if it is possible to realise a film with very little means and to break with the traditional cinema."
Described by the jury as "bold and entertaining", the film tells the story of an ageing widower - played by Brisseau - whose life is renewed as he helps a young homeless girl back to health.
Brisseau called the film's female star Virginie Legeray up on stage, and said he could not have made the film without her.
"I'm very touched, I did not expect this at all," he added. "I thought that my film will be released in a cinema hall and not here."
The prize money of 90,000 Swiss francs (£58,700) means that the film has made a profit before even signing a distribution deal.
Chinese director Liang Ying's latest film Wo Hai You Hua Yao Shuo (When Night Falls), the true story of a man who killed six Shanghai policemen after being beaten for riding an unlicensed bike, was awarded two prizes.
Ying was named best director, while the film's star An Nai was named best actress for her portrayal of the killer's mother.
Walter Saabel won best actor for his role in Der Glanz des Tages and Cate Shortland's war drama Lore won the award voted by the public.
Director and actress Noemie Lvovsky, who was on the main jury to select the Golden Leopard award, won the Piazza Grande Award for Camille Redouble (Camille Rewinds), awarded to the best film screened in Locarno's main square.
Locarno film festival president Marco Solari also announced that they would host a new "mini" three-day version of the festival next March, focusing on cinema and literature.