Moondance diner closing doors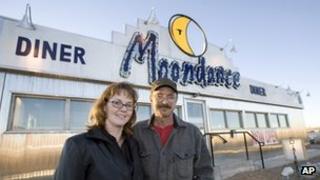 A New York diner made famous for its appearance in films and television could be on the move again, five years after it was hauled from Manhattan.
The Moondance Diner, appeared in the 2002 Spider-Man movie and TV shows, including Friends and Sex and the City.
It was moved to Wyoming in 2007, after New Yorkers mounted a petition to save the landmark from developers who wanted it out of the way.
However, poor business has forced its current owners to sell.
The Moondance Diner featured in the hit US sitcom Friends, when it was depicted as a 1950s themed restaurant where Monica Geller, (Courteney Cox) worked as a waitress.
In the 2002 film, Spider-Man it appeared as the diner at which Mary Jane Watson (Kirsten Dunst) was employed.
The diner was also used during filming of the television series Sex and the City.
Cheryl and Vince Pierce bought the diner - created as an independent structure - for $7,500 from the American Diner Museum in Rhode Island, where it had been donated by developers.
It took the couple a week to transport the Soho landmark the 2,000 miles from Manhattan to their home, LaBarge in Wyoming, a town with a population of just 400.
Economic downturn
They remodelled the restaurant and opened it in 2009, but they say a lack of interest from tourists and a downturn in the local economy have made it impossible to keep the doors open.
"I've put so much into it over the last five years, and I'm kind of tapped," Cheryl Pierce said.
"I hate to admit that, but I really am. I'm tapped financially, emotionally and physically."
The 80-year-old eatery has been closed since spring and Ms Pierce said that after studying her accounts, she has no plans to reopen.
The Pierces are now selling the diner for $290,000, roughly the amount they say they owe the bank.
The couple announced their intent to sell the diner in July, but the future of the former New York institution remains unclear; its owners say that so far they have not received a serious offer.
A few people have shown interest, but "none real serious," said Mrs Pierce.