Tributes paid to composer Marvin Hamlisch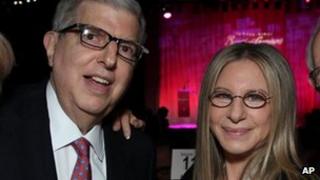 Barbra Streisand has led tributes to composer Marvin Hamlisch, who died on Monday in Los Angeles aged 68.
The Oscar-winning composer wrote more than 40 film scores, including The Way We Were, in which Streisand starred.
The actress said she was "devastated" at his death, describing Hamlisch as a "dear friend".
"He was a true musical genius, but above all that, he was a beautiful human being. I will truly miss him," she said.
"He's been in my life ever since the first day I met him in 1963, when he was my rehearsal pianist for Funny Girl. He played at my wedding in 1998 and recently for me at a benefit for women's heart disease.
"The world will remember Marvin for his brilliant musical accomplishments, from A Chorus Line to The Way We Were, but when I think of him now, it was his brilliantly quick mind, his generosity, and delicious sense of humour that made him a delight to be around."
The Way We Were won Hamlisch Oscars for best original dramatic score and best original song in 1974.
In total he won three Academy Awards, four Emmys, a Tony and three Golden Globes.
'Splendid talent'
Liza Minnelli said the composer had been her best friend since she was 13 years old and had arranged all her albums.
"He was one of the funniest people I knew. I will miss his talent, our laughter and friendship, but mostly I will miss Marvin," she said.
"I have lost my first lifelong best friend, and sadly we have lost a splendid, splendid talent."
Songwriters Alan and Marilyn Bergman, who wrote the lyrics to many of the songs Hamlisch won awards or was nominated for, said: "He was more than our collaborator.
"He was our beloved friend. He was family. The world will miss his music, his humour, his genius. We will miss him every day for the rest of our lives."
Songwriter Diane Warren said she was "so sad" to hear the news.
"Brilliant composer and such a lovely man. The angels have beautiful melodies to sing now," she added.
Recording Academy president Neil Portnow said: "Four-time Grammy winner Marvin Hamlisch was a masterful composer whose work transcended Broadway stages and the silver screen. The music industry has lost a truly gifted artist."
Glee star and Tony-nominated actor Matthew Morrison also paid tribute saying: "Mr Hamlisch's contribution to the arts is one that will forever be remembered through the masterpieces he created for TV, film, theatre, and music as a whole.
"We will miss Mr Hamlisch, and will continue to honour his life through his work."
While former First Lady Nancy Reagan said: "Marvin Hamlisch was a dear friend and I am truly stunned by his death at such a young age.
"I heard him say once that he was 'old fashioned' and I suppose that's why Ronnie and I were so drawn to him, but I don't think you could ever find a more contemporary and talented musician.
"During our time at the White House, he entertained at many events - he even let me sing with him a few times, but luckily his piano music drowned out my voice!
"And I'll never forget that he wrote a special song for Ronnie's surprise 77th birthday party in 1988."
Family spokesman Jason Lee said Hamlisch died on Monday after a brief illness.
He is survived by his wife of 25 years, Terre.