BBC hotel bill for new Salford home increases to £1m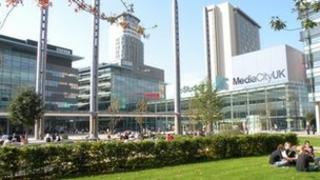 The BBC's bill for hotel accommodation in Salford has increased 17-fold between 2011 and 2012.
Just under £1m was spent on hotels in Salford in the 12 months to April 2012, up from £55,000 the previous year.
BBC Sport, Radio 5 live and the BBC Children's department moved to the new media centre outside Manchester during 2011. BBC Breakfast shortly after period covered by the figures.
The hotel bill includes accommodation for staff and programme guests.
Expenditure figures for hotels in Belfast, Glasgow, Manchester and Salford, were released by the BBC following a Freedom of Information request from the Daily Mail.
The total amount paid by the BBC for hotel accommodation in the 12 months from April 2011 was £2.68 million, up from £1.56 million the previous year.
The figures cover rooms booked through the corporation's booking agents for staff, contractors and programme guests.
A BBC spokesperson commented: "Staff are regularly required to work from different BBC offices around the UK to attend meetings or meet production needs, and there will always be costs associated with this."
Along with an increase for Salford, the bill for hotels in Manchester rose by just over £300,000 to £1 million in 2012.
Chief Economist at Greater Manchester Chamber of Commerce, Brian Sloan said the figures were not surprising, given the numbers of people coming to the area.
He also cautioned against looking at accommodation costs alone.
"When looking at how public money is spent, looking at just hotel spend in isolation is not a fair comparison. You need to look at other costs such as wages in the north compared to employing people in London," he said.
"We are thrilled to have media city here; it has had a positive impact on the region and it's providing jobs growth in the Greater Manchester area. The BBC move to Salford is helping to distribute public money around the country, and that's positive," he added.
There was a slight decrease in the cost of hotels in both Glasgow and Belfast.
The BBC said the work involved in making its new offices in Salford fully operational for broadcast also contributed to the costs.
"These figures cover accommodation costs for the team responsible for the technology fit-out and technical proving," a spokesperson said.
"Staff from the moving departments, including Sport, Children's and Radio 5 live who were initially operating over two sites - broadcasting from their base in London and preparing their new base in Salford.
The move to a new media village at Salford Quays is part of the BBC's regionalisation plan to make 50% of programmes outside London by 2016.
BBC Breakfast moved from London to Salford in April, with the first show broadcast from its new base on 10 April 2012.
The BBC recently agreed the sale of Television Centre in west London to property developers Stanhope Plc for around £200m.