Dale Olson, Hollywood publicist, dies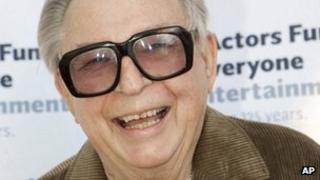 Veteran US publicist Dale Olson, who represented Hollywood legends including Marilyn Monroe, Alfred Hitchcock and Clint Eastwood, has died aged 78.
A spokesman said he died at a California hospital on Thursday after suffering from cancer.
Olson was notably the spokesman for Rock Hudson during the actor's widely publicised fight with Aids in 1985.
He also represented Steven Spielberg, Shirley Maclaine, Sir Laurence Olivier and Tony Curtis.
In the 1970's, Olson launched the publicity campaigns for a number of film franchises including Rocky, Rambo, Superman and Halloween.
He also led numerous winning Oscar campaigns for movies such as In the Heat of the Night, Terms of Endearment, American Beauty and Gladiator.
Born in Fargo, North Dakota, Olson began as a reporter in Oregon.
He later moved to Los Angeles and had spells writing for the Hollywood Reporter and Variety - where he helped found the Los Angeles Drama Critics Circle.
In the late 1960s he joined US publicity giant Rogers and Cowan and, during his 18 years with the company, rose to the head of its motion pictures division.
He then left in 1985 to set up his own publicity firm.
He is survived by his partner of more than 30 years, fellow publicity agent Eugene Harbin.