Lloyd Webber wrong over Olympics theatre 'bloodbath'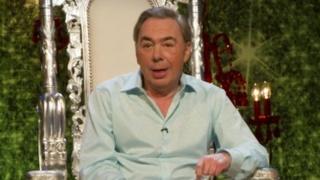 Andrew Lloyd Webber has said he was wrong to predict a "bloodbath" for London theatre during the Olympics.
His statement came as new figures showed takings at his theatres had risen by 25% since the Games began.
Last December, Lord Lloyd-Webber told Radio 4's Today programme: "Nobody's going to go to the theatre at all".
Now the composer has admitted to The Telegraph newspaper: "I have been proved wrong and I couldn't be more delighted about that".
West End figures published on Monday showed box office takings for the first seven days of the London 2012 Games were up £250,000 on the previous week.
Speaking to the BBC on Tuesday, Lord Lloyd-Webber added that Monday night's takings for Shrek and Phantom of the Opera, both playing at his theatres, were "hugely up".
"Shrek was really flying last night," he said. "Certainly everything is already 25% up on the Monday on where it was even last week, which is very good."
He continued: "We did really think we were going to have a moment where it was really very difficult."
Last year, Lord Lloyd-Webber warned "most of the theatres in London will shut" during the Games, and even considered closing The Wizard of Oz for the duration.
"I just thought 'oh my God, it's just not going to happen', because there was just nothing in advance you see," he said of ticket sales for the musical at the London Palladium.
British crowds
Other theatres in his Really Useful Group are currently hosting Matilda the Musical and War Horse.
Sweeney Todd, which is playing at the Adelphi, has been put on hold, although Lord Lloyd-Webber revealed he had just been told that its producers were "sorry" they did not run the show through the Olympics.
However, he indicated that theatre audiences were not drawn from the usual overseas summer visitors - with most patrons coming from the UK instead.
"They do appear to be mainly British," he told the BBC. "A lot of people are coming to London and saying 'let's take in a show too', which is great.
"Feedback from audiences is incredibly positive, so it's just a question of trying to persuade everyone to go and celebrate the West End for the last few days. I'm afraid in one or two cases we haven't got any tickets to sell."
Lord Lloyd-Webber has also taken to Twitter to urge visitors to extend their theatre trips to help West End restaurants that are "struggling" during the Olympics.
He wrote: "Go to the Games, go to the West End, enjoy a show, have a meal. There'll never be a more joyous time to celebrate what London has to offer."