Leonardo DiCaprio's Great Gatsby film delayed to 2013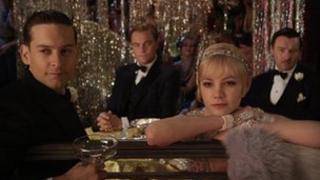 Baz Luhrmann's 3D adaptation of The Great Gatsby will not be released until next summer, Warner Bros has announced.
The film, starring Leonardo DiCaprio and Carey Mulligan, had been due for release on Christmas Day in the US and the day after in the UK.
However Warner Bros said it was pushing the film back to ensure it "reaches the largest audience possible".
The release date puts the film, based on F Scott Fitzgerald's novel, out of contention for next year's Oscars.
A Christmas release would have pitted the film against other highly anticipated movies including Les Miserables, Tom Cruise's Jack Reacher and the first instalment of The Hobbit trilogy.
It will now battle against summer blockbusters like Iron Man 3, Star Trek 2, Monsters University and new Superman film Man of Steel.
A summer release also makes Luhrmann's film a much less-favoured contender for the 2014 awards season. Film studios generally line up Oscar contenders for December and January, which is when Academy voters receive their ballot papers.
Warner Bros gave no explanation for the delay of The Great Gatsby, simply saying it wanted to make sure "this unique film reaches the largest audience possible".
However, two unnamed sources close to the production told the LA Times that the extra time would allow Luhrmann "more time to finish its extensive 3D effects and a planned all-star soundtrack".
"Based on what we've seen, Baz Luhrmann's incredible work is all we anticipated and so much more," Dan Fellman, Warner Bros's president of domestic distribution, said in a statement.
"It truly brings Fitzgerald's American classic to life in a completely immersive, visually stunning and exciting way.
"We think moviegoers of all ages are going to embrace it."
International distribution president Veronika Kwan Vandenberg added: "The responses we've had to some of the early sneak peeks have been phenomenal, and we think The Great Gatsby will be the perfect summer movie around the world."
Tobey Maguire and Isla Fisher also star in Luhrmann's adaptation of the F Scott Fitzgerald novel.