Lamb of God singer Randy Blythe released from Czech jail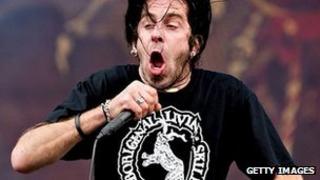 The lead singer in US rock band Lamb of God has been released from prison in the Czech Republic on bail.
Randy Blythe, 41, posted bail in the amount of $400,000 (£255,715) and has flown back to the United States.
He was arrested at Prague airport on 27 June over the death of a 19-year-old fan two years ago.
The band had flown into Prague to play another gig, apparently unaware there was an outstanding warrant for Mr Blythe's arrest.
The lead singer, who has not been charged with a crime, said it was "very tragic" that the young man had died.
Flight risk
"I feel very bad that a fan of my band is dead, that his family has to go through it... I feel awful for them," Mr Blythe told Czech Nova television at Prague's international airport.
"I'm relieved to be out of Pankrac jail. It wasn't bad but it wasn't exactly fun," he added.
Mr Blythe's arrest and detention relates to an incident in 2010 when he allegedly pushed a fan off the stage.
The teenager hit his head when he fell to the concrete floor and died 14 days later of his injuries.
Mr Blythe has not been charged with a crime, but Czech police are continuing to investigate the incident.
The prosecution requested he be banned from leaving the country, but the singer told Nova TV he was not a flight risk.
"If it's necessary for me to return to Prague to go to this court thing, I certainly will," he said on Friday.
Virginia-based Lamb of God, who received Grammy nominations in 2007 and 2011, played at the Download festival at Donington Park in the UK in June.