Womad: 30 years of world music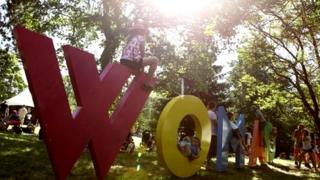 The brainchild of British pop legend Peter Gabriel, Womad - World of Music Arts & Dance - celebrated its thirtieth year over the weekend.
Yet, it still remains something of a hidden gem amongst the UK's festival season.
From just £8 a ticket at The Royal Bath and West Showground in 1982, Womad now runs 160 festivals in 27 countries.
While others shrink and fall by the wayside, the mother festival now based at the beautiful Charlton Park in Wiltshire experienced its biggest attendance yet in 2012.
Senegalese singer and guitarist Baaba Maal said it is the audience that makes Womad unique.
"They come to party of course, but more importantly they come to listen," he said.
UK chamber-pop indie favourite Patrick Wolf was surprised at how much the audience listened to his set.
Dressed all in black like some gothic page boy bard and playing to a packed tent on Saturday afternoon he said: "Thank you for listening, it's a real treat".
His audience breathed in every detail of his acoustic set, from his description of his Appalachian mountain dulcimer made famous by "Joni Mitchell and Cyndi Lauper", to introducing his Spanish guitarist Javier Moreno who he said is "the best there is".
Alongside the likes of Afrobeat pioneer Femi Kuti, Senegal's Carlou D and South Africa's township jive quintet Hot Water, Womad always puts on a fine selection of bands from the UK.
This weekend saw performances from epic rockers Revere, Scottish pipers Breabach, Mercury nominees Portico Quartet and floaty tropical popsters Vadoinmessico.
Sunday night's highly-anticipated headliner Robert Plant presented his latest foray into the roots music of America and the UK, entitled Sensational Space Shifters.
However, wandering through the festival is where you make your finest discoveries.
The Manganiyar Seduction conducted by Indian director Roysten Abel was the most extraordinary performance of the weekend. 36 boxes were stacked high and wide on stage with a Manganiyar folk musician perched inside.
Like some gigantic, surreal collector's tray with each box edge lit up with naked light bulbs, these flashed on and off as each artist played their uniquely Manganiyar folk instrument.
Reaching a crescendo at the end of the set with all the lights ablaze, anyone watching could be nothing but completely overwhelmed. This is definitely not your average music festival, as you can ask Prince Harry who was there on Saturday partying up a storm.
During the performance Roysten Abel brought up a touchy subject, Visas. It has been an ongoing struggle for the organisers to get these musicians from all four corners of the globe into the country and every year, as a result, there are last minute programme changes.
On stage Abel joked: "I have around forty Muslim musicians with the surname Khan, trying to get into the US to play, we are held up for hours."
He then turned all the stage lights on to illuminate the players and said: "Tell me, do any of these guys look like terrorists?" as the crowd roared.
On Friday night Brazilian DJ Maga Bo had the dance tent hopping. As the Olympics opening ceremony wowed those at home, we were taking a trip round the electronic dance map from Brazilian hip hop, to Jamaican dancehall, Reggaeton and good old UK house.
Wild-eyed teenagers bounced up and down, this had doubtless shifted their whole musical world to the left.
The Taste The World stage is unique to Womad, where artists from all over the world are invited to cook a traditional meal for an audience, whilst performing the odd acoustic tracks.
There I tasted salted fish courtesy of Norwegian folkstress Ane Brun and a booze-laden "posh French trifle" from Algerian folk-jazz virtuoso's Lo'Jo.
The BBC Radio 3 stage is also somewhere I could have happily spent all weekend at, as the line up is always second to none. This year it saw the likes of 'Desert Rebel' - Saharan blues veteran Abdallah Oumbadougou take to the stage for a packed late night set, plus Cape Breton fiddler Chrissy Crowley and Danish folk band Habadekuk.
The festival is a musical voyage of discovery and one for all the family. If you are feeling adventurous you could even head to Adelaide for Womad in 2013.