'Why I'll cherish being part of 2012 opening ceremony'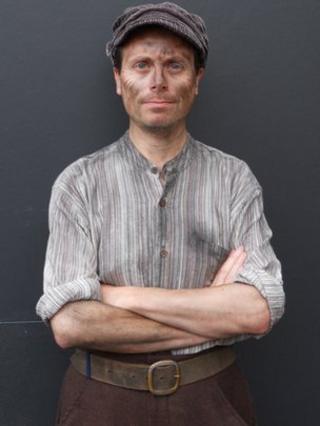 Up to a billion people worldwide watched the London 2012 opening ceremony along with 80,000 in the Olympic Stadium. Here volunteer performer Neil Smith tells what it was like to be part of the Danny Boyle-directed spectacular.
It was an incredible feeling to walk out into the Olympic Stadium on 27 July knowing the world was watching.
Yet I and the hundreds of others taking part in the Pandemonium section had a job to do and our minds were fixed upon it.
In my case, that job was playing one of the Working Men and Women charged with tearing up England's "green and pleasant land" and erecting an industrial landscape in its place.
Marching in time to a "click track" piped into our ears through in-ear monitors, we set about the task with gusto.
To the casual observer, ripping up turf, removing fences and dragging off hedgerows might not seem sophisticated.
Yet finding the most time-efficient way to "strike" our respective "counties" involved many hours of laborious trial and error.
It was vital that scenery was removed quickly from trap doors beneath which chimney stacks and beam engines were waiting to emerge.
We also had to deal with a rogue element - droppings left by animals involved in the 50-minute "pre-show" depicting bucolic country life.
I am sure I was not the only participant grateful for the gloves and sturdy work boots we had all been assigned.
The rest of my costume? A weathered shirt, hessian trousers, leather belt and cap.
With my unshaven cheeks blackened with soot, I resembled how Gavroche from Les Miserables might have looked had he made it to middle age.
The nervous tension was palpable as we waited behind curtains to make our entrance, shortly after 21:00 BST.
Technical rehearsals held earlier that week had steeled us for appearing in front of an audience, but this was a different ball game.
So much to remember, so much to forget - not least the choreography we had all been taught by Toby Sedgwick, "movement director" of War Horse and Boyle's production of Frankenstein.
It was a swine to get right. When enacted en masse, though, it created a potent image of a digging, hammering army working in synchronous harmony.
There were other factors to deal with. A Caribbean steel band. A cottage on castors. A papier-mache mock-up of the Windrush.
There was also the spine-tingling "poppy moment", a brief hiatus of activity in tribute to those who have fallen on foreign fields.
Small wonder that it all went by in a blur. Indeed, it was only when I saw a recording later that I realised I'd been caught on camera.
The set-piece of our section was the "forging" of the Olympic rings that culminated in a pyrotechnic shower from the heavens.
Being able to witness this astonishing moment of epic theatricality is something I will always cherish.
We then soaked up the applause, took our bows and made a hasty exit up the aisles so the rest of the production could continue.
As I walked back to our holding pen I passed the Athletes' Parade, a huge conga line that stretched across the Olympic Park as far as the eye could see.
As I write this I feel an enormous sense of pride to have played a role, however small, in such a memorable and dazzling occasion.
And if anybody ever doubts me, I have a certificate, my costume and my name in the programme to prove it.
Yet what I will also take away from this experience is the camaraderie, commitment and enthusiasm displayed by everyone involved in this gargantuan enterprise.
Together we put on one hell of a show.