Stevie Wonder extortion pair plead not guilty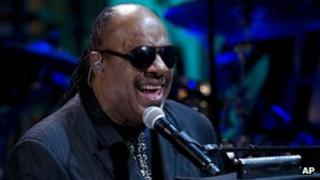 Two people charged with extorting money from Stevie Wonder over a video that portrays the singer in a negative light have pleaded not guilty.
The singer's cousin, Alpha Walker, 38 and Tamara Diaz made their first appearance in a Los Angeles court.
The pair were arrested in May after receiving $10,000 (£6,377) from Wonder's lawyers in a police sting.
Mr Walker's lawyers said the film was about his own life, and therefore was protected under freedom of speech laws.
The pair are accused of attempting to extort as much as $500,000.
Earlier, a police official told the Associated Press that the film appeared to be a 80-minute rant against the Grammy-winning musician.
According to witnesses at a pre-trial hearing, Mr Walker's film made derogatory comments about Stevie Wonder's late mother and accused the musician of being "a slumlord".
Portions of the video were filmed in the former home of his mother, which is now dilapidated, and made references to his son, who the singer is protective of.
Stevie Wonder told a police officer that he was hurt by Mr Walker's accusations, and said they were false.
He was reportedly prepared to pay the alleged extortion because he worried it would embarrass his family.
"He explained that when something like this is released to the media, it is presumed to be true," Police Detective Tracey Benjamin said.