Tino Sehgal takes over Tate Modern Turbine Hall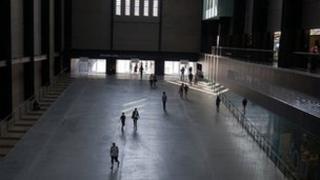 I'm standing beside a pillar in the Tate Modern gallery in London, and more than 50 people are strolling up and down the length of the Turbine Hall in formation around me.
Gradually they begin to speed up to a brisk walk, which soon turns into a jog, before breaking into a full speed dash up the ramp of the Hall and then scattering into all different directions.
This isn't a keep-fit class - it is the new performance art commission created by London-born German Tino Sehgal for the gallery's Unilever Series.
At a short press conference before the synchronised sprinting, Sehgal said the installation examined what it meant to belong to a group. To do this, he creates social situations using conversations, dance, sound, light and movement.
"We need recognition as individuals but we still need connection to the others," he said.
The artist conducted workshops for more than a year to find members of the public to participate in the installation - each working a four-hour shift to cover 1,120 shifts a week.
During their shifts, they carry out a number of "games", each with a set of rules. One involves participants talking to visitors and answering questions they have not been asked.
Gallery director Chris Dercon describes the commission as an "anarchic experience" with a "flow of energy" that gives a "feeling of recognition and a sense of belonging". After the press conference, I make my way over to the hall to see for myself.
Initially, it seems strange standing on the elevated bridge section to watch a group of people spanning the width of the hall walking the length of the space below.
Why are they walking? Where are they walking to? What do they know that I don't?
Down in the hall itself, it is a different feeling as you are swept up in the motion. I position myself beside the pillar, with the group in the throes of jogging through the room.
On their way back, a young woman stops besides me and launches into conversation. Just as Sehgal had said, she seems to be answering a question I had asked her, except I have no idea what the question was.
She begins by telling me about her time in Berlin and how everyone there takes more time to stand and appreciate things, whereas in London, everyone is moving quickly.
I learn a lot about her over the next 10 minutes - she is Norwegian, studied music and was employed playing the French horn in orchestras.
Deciding on a career change, she interned at the Norwegian embassy in Berlin and is now studying political theory at the London School of Economics.
Yet although I have never met this woman before, strangely we have things in common.
Her reasons for leaving the orchestra, her attitude towards classical music and the lack of creativity it afforded her were similar to my own reasons for giving up playing the piano in my teens.
And we were able to talk about Norway as I had been there a couple of times.
There was the connection Sehgal had spoken of. I probably would not have had that conversation with an ordinary stranger - but here, I almost felt compelled to.
Then, just as suddenly as our conversation had started, the woman says: "This piece is called These Associations," and slips back into the crowd.
I make my way back up to the bridge to view the group below. Some are engaged in conversation with other visitors, while the others are now frozen on the spot.
Minutes later, they begin singing. While before they were occupying the length and width of the hall, now they fill the height of it with their voices.
It is a mixture of singing, humming and whispering - almost chant-like. The words are difficult to make out, but it sounds like: "We all live in technological world." Gradually all the hall's lights are turned off and it all feels very eerie.
Rules of the game
Slowly, the participants begin to leave one by one, reducing the volume of the chant, until there are only five or so left singing. Then the lights come back on and the chant ends.
I go back downstairs and the group of participants has disappeared. A Tate worker tells me that was the end of a shift and new people would be "dribbling" back in due course to provide a new experience.
As I leave, a handful of people appear to be playing a game of tag - but in this version, it seems that once you get in someone's personal space you have to run in the opposite direction.
I wonder if the visitors to the installation will ever figure out the "rules" to all of Sehgal's games.
I'm sure if I visit again I'll encounter something totally different - and yet still feel part of something.
These Associations is at Tate Modern's Turbine Hall from 24 July - 28 October 2012.