Katie Holmes in Broadway return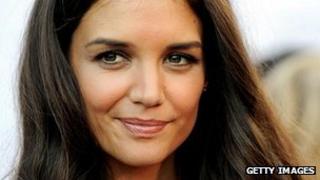 Katie Holmes is to star in a new Broadway play this autumn, her first major acting project since announcing her divorce from Tom Cruise.
The actress will appear in Smash creator Theresa Rebeck's dark comedy, Dead Accounts.
Holmes last appeared on Broadway in 2008 when she made her debut in a production of Arthur Miller's All My Sons.
Production dates and additional casting have yet to be announced.
The five-character play tells the story of a son who returns to his family's home in Cincinnati flush with money, which raises red flags for his sister - played by Holmes, who is living with their elderly parents.
Producers said the play "tackles the timely issues of corporate greed, small town values and whether or not your family will always welcome you back... with no questions asked".
Pulitzer prize
The new play had its world premiere at the Cincinnati Playhouse last winter.
Tony Award winner Jack O'Brien will direct the Broadway production, which will run at the Music Box Theatre.
Rebeck was a Pulitzer prize finalist for drama in 2004 for the play Omnium Gatherum.
As well as creating and writing the musical TV series Smash, she also wrote scripts for other US series including Law and Order: Criminal Intent, LA Law and NYPD Blue.
On the big screen, Rebeck has written the screenplays for Harriet the Spy, Gossip and Catwoman.