Batman returns in Dark Knight finale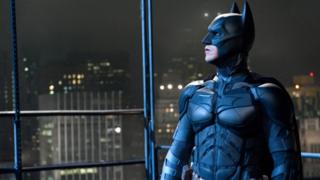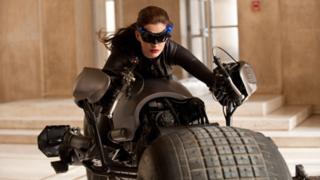 The wait is over for Batman fans as the much-anticipated final film in Christopher Nolan's trilogy, The Dark Knight Rises, is released this weekend.
The latest instalment sees Christian Bale return as the caped crusader to fight a new villain, a masked terrorist named Bane.
The director will undoubtedly be hoping to replicate his box office success of 2005's Batman Begins and 2008's The Dark Knight.
But although it may sell more tickets than some of this year's blockbusters, it may not take as much money because the film is not in 3D - which commands a higher ticket price at the box office.
Nolan is not a fan of the technique. He chose, instead, to make the trilogy with an Imax audience in mind.
Having experimented with large-format cameras for a handful of scenes in The Dark Knight, nearly half his latest film was shot with Imax cameras.
"When you're dealing with iconic characters like Batman you're dealing with larger-than-life characters," Nolan explains.
"I wanted to use the Imax format as it gives you this enormous canvas to paint pictures of these huge characters.
"It creates for me what seems to be the most immersive experience, because the size of the picture fills your peripheral vision and the clarity of the image means there's incredible depth to it."
The director adds that he stuck with the format to be stylistically consistent with the other two films in the trilogy.
But with a limited number of Imax screens - there are only 18 in the UK - Nolan says he didn't see the 2D factor as a disadvantage and hopes it won't affect box office takings too much.
"Certainly if [cinemas] are charging people more to watch films that are in 3D then we'll have to sell more tickets, but I hope people will still go to see it," he says.
In introducing new characters to the franchise, Nolan reunited with several members of his Inception cast, including Tom Hardy as Bane, Marion Cotillard as wealthy philanthropist Miranda Tate and Joseph Gordon-Levitt as police detective John Blake.
Another newcomer to the trilogy is Anne Hathaway, who plays Selina Kyle - better known as Catwoman.
Nolan admits he wasn't sure about bringing the character into the franchise.
"My brother [screenwriter] Jonah was adamant we should find a way," he says.
"Ultimately, I came to view Selina Kyle as a classic femme fatale."
Only ever referred to as a "cat burglar" in the film, Kyle's cat-like appearance is aided by a black skin-tight suit and night-vision goggles which, when place on the top of her head, coincidentally resemble a pair of ears.
Hathaway had several months of martial arts stunt training for the role and ended up doing almost all of her own stunts - in heels.
"I didn't know at the beginning if I'd be any good at it, so I just did what everyone told me to do," she says.
"Then the more I did it, the more comfortable I started to feel and it became a really integral part of the character. I felt lucky I had enough time to learn how to do it - usually they give you about five minutes, but here I had many months to figure it out."
Complete story
As with the last two films, Batman has a range of gadgets and vehicles at his disposal, all provided by Lucius Fox, again played by Morgan Freeman.
But despite his role, the actor never got the opportunity to test any of them out.
"I didn't get to play with the toys at all," he says. "I didn't even get to throw one of the little [Batarang] bat things.
"I should have been able to drive the Tumbler [Batmobile] and I'm a licensed pilot so I should have been allowed to fly the Bat, but no - only Batman gets to do the good things."
Nolan has always stated he would make a trilogy and says he has no intention of making a fourth film.
"I'll be moving on and doing other things," he says. "Bruce Wayne's story is great and I wanted to tell a story that had a beginning, middle and end - that naturally has three parts - and the Dark Knight Rises represents my conclusion to that."
However with the introduction of new characters, it does offer the possibility of a spin-off movie.
Hathaway says if Nolan asked her to star in her own Catwoman film, she wouldn't hesitate.
"If Chris Nolan said 'I want to do a movie about frogs and I want you to be the frog spawn' I'd be like, 'done'," she says.
"I would do any film Chris asked me to do - but the idea we could come back to this world and explore this character some more is very enticing."
As with any comic-book character, Batman has a legion of passionate fans who will inevitably be keen to share their reactions and views on the new characters.
Having attended this year's Comic Con in San Diego, Gordon-Levitt had some first-hand experience of the Batman fans.
"I love the fact people feel so strongly about the characters in these movies," he says. "I feel the same way, I love movies - it's not just disposable entertainment."
Hathaway, too, is eager to know what the rest of the world thinks of her portrayal of a character, which has previously been played by Michelle Pfeiffer and Halle Berry.
But what she's really hoping for is a legion of little Catwomen who can imitate her during one of America's most popular times of the year.
"I've always wanted to be someone's Halloween costume," she says.
"It would be really lovely if that worked out. I just hope that people aren't [dressed] like slutty Catwoman - she's sexy enough."
The Dark Knight Rises is released on Friday 20 July.