Kate Mosse writes play with lead roles for 'older actresses'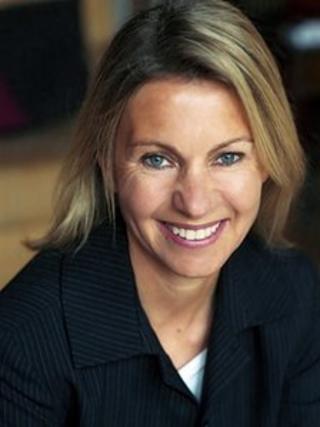 Prize-winning novelist Kate Mosse has revealed that her first full-length stage play will have major roles for actresses in their 50s and 60s.
"I'd like my first big play to be a play for women," she told the BBC.
"There are still not big roles for older female actresses in anything like the way that there are for the great male actors."
Actors union Equity recently voiced concerns over inequality in casting men and women in subsidised theatres.
Mosse - who co-founded the Orange Prize for women's fiction - added she hopes the new play will reach the stage next year.
Mosse, author of bestsellers Labyrinth and Sepulchre, said that fans of her novels would not be surprised that the play centred on a piece of "lost women's history" set in 13th Century Jerusalem.
Mosse had been working on another play, entitled Dodger - with a "wonderful lead part" for an older male actor - commissioned for the Chichester Festival Theatre 's 2013 season.
But she has put Dodger aside to make way for the new work.
Mosse said: "I am planning a play which will have five major roles for actresses in their 50s and 60s. It's a serious play that will be carried by women."
It was, she said, about creating "substantial roles" as opposed to supporting roles like "the granny, the mum, the woman sitting by the samovar in [Uncle] Vanya".
"British actresses are the best in the world but there isn't the work for them," Mosse added.
Her words echo those of Janet Suzman, who told The Guardian last month that "there aren't bloody well enough parts for women".
Suzman said that while men of her age had "great heroic cleaving parts still to play", at 73 she was "ready to play Lear", but big classical parts for women of her age simply did not exist.
Earlier this month, actors' union Equity called for "transparent monitoring" of casting in subsidised theatre to address the imbalance of roles for women and men.
Mosse, who co-founded the Orange Prize for women's fiction in 1996, said she hoped her new play would be considered for the Chichester Festival Theatre in 2013.
The Chichester-born author has had a long association with the theatre, and has written a book about its 50th anniversary this year.
Mosse's third and final novel in the Languedoc Trilogy, Citadel, will be published in the autumn. Set in the south of France during WWII, it is centred on an all-female group of resistance fighters.
She is also working on a screenplay of The Winter Ghosts, her stand-alone novella published in 2009.