Geoffrey Hill shortlisted for Forward poetry prize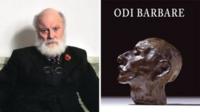 Oxford Professor of Poetry Geoffrey Hill is shortlisted for the Forward prize for best poetry collection for the second consecutive year.
His work Odi Barbare will compete with Australian poet Barry Hill, whose collection of poems is inspired by the paintings of Lucian Freud.
Selima Hill, Beverley Bie Brahic and Jorie Graham are also shortlisted.
The winner of the £10,000 prize will be announced in London on 3 October, the eve of National Poetry Day.
Other awards to be presented that night include a £5,000 prize for best first collection, and a £1,000 prize for best single poem.
The Forward Prizes were founded in 1992 and reward both established and up-and-coming poets.
Geoffrey Hill was elected the Oxford Professor of Poetry in 2010. His 13th collection of poems, Clavics, was shortlisted for the 2011 Forward prize for best collection.
He was knighted in the 2012 New Year's Honours for services to literature.
Odi Barbare (Barbarian Odes) is a book of 52 poems, each of which has six verses in the "Sapphic" form - three longer lines followed by one of five syllables.
"There was no obvious route to the shortlists (recurrence of the surname Hill notwithstanding)," said Leonie Rushforth, who is chairing this year's judges.
"We have had to let go of many excellent collections in the process."
She is joined on the judging panel by fellow poets Ian McMillan and Alice Oswald, along with literary critic Emma Hogan and Megan Walsh from The Times Saturday Review.
William Sieghart, chairman of the Forward Arts Foundation, said the judges' selection suggested "a vintage year".
"That so many excellent collections and poems did not make the shortlists is testament to the volume of quality poetry which is being published today," he said.
Previous winners of the best collection category include Seamus Heaney, Carol Ann Duffy and Ted Hughes.
Last year's winner was John Burnside for his collection Black Cat Bone.
Also shortlisted:
The Felix Dennis Prize for Best First Collection
Loretta Collins Klobah - The Twelve-Foot Neon Woman
Rhian Edwards - Clueless Dogs
Lucy Hamilton - Stalker
Sam Riviere - 81 Austerities
Jacob Sam-La Rose - Breaking Silence
The Forward Prize for Best Single Poem in memory of Michael Donaghy
Greta Stoddart - Deep Sea Diver
Denise Riley - A Part Song
Michael Longley - Marigolds, 1960
John Kinsella - Mea Culpa: Cleaning the Gutters
Marilyn Hacker - Fugue on a line of Amr bin M'ad Yakrib