Coronation Street cuts canal body scenes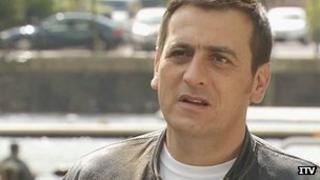 Coronation Street bosses have changed a number of scenes from the soap as they were too similar to the recent death of Stone Roses fan Chris Brahney.
Mr Brahey's body was found in a canal in Manchester after going missing following the band's gig at Heaton Park on 30 June.
The soap was to feature references to a body being pulled out of a canal as part of a plot involving Peter Barlow.
Producers said the scenes, which were filmed weeks ago, had now been changed.
Friday's episode was to see Barlow's family identify a body after he is reported missing.
Although the scenes did not feature a body being recovered, it included a policeman making multiple references to one being found in a canal.
The new scene will now make no reference to where the body was found.
"Producers have taken the decision to remove references, which although scripted and filmed weeks ago, bore some similarities to the manner in which Christopher Brahney's body was found," an ITV spokeswoman said.
"Like many others, we were extremely saddened by the news of his death, and our thoughts and condolences are with his family."