The Amazing Spider-Man swoops on UK box office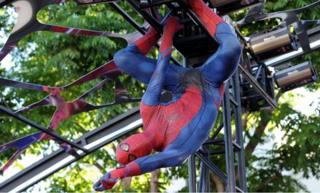 The Amazing Spider-Man has topped the UK and Ireland box office, taking £11 million in its opening weekend.
A reboot of the popular comic book franchise, it managed to out-perform the 2002 Spider-Man film which took £8.9m when it opened in June 2002.
Yet it did not outrank Marvel Avengers Assemble, whose £15.7m debut remains this year's largest first weekend haul.
Sony's latest pass at the story, which stars Britain's Andrew Garfield, was boosted by takings from 3D screenings.
It also benefited from early preview screenings, which accounted for £4.33m of its box office tally.
The 2002 Spider-Man had no previews and also had to compete with England and Ireland World Cup matches in its opening weekend.
There was a new entry in this week's Top 10 for Katy Perry's concert documentary Part of Me, which reached fourth place with takings of £449,491.
Bollywood comedy Bol Bachchan claimed eighth place with a £160,941 haul, despite screening in just 50 cinemas.
Animated sequel Ice Age: Continental Drift dropped one place to this week's number two, taking £719,679 in its second weekend in cinemas.
Jason Segel and Emily Blunt's comedy drama The Five-Year Engagement was at number three, while Men In Black 3 held on to the number five spot after seven weeks in cinemas.
The most successful film in the chart is Ridley Scott's space opera Prometheus, which remains in sixth place.
Starring Charlize Theron, Noomi Rapace and Michael Fassbender, the movie has now taken a total of £23.9m in the UK and Ireland.