Nora Ephron remembered at star-packed memorial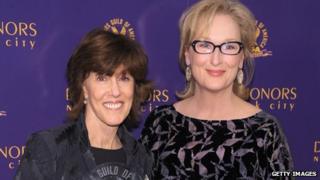 Stars including Tom Hanks and Meryl Streep have paid tribute to screenwriter Nora Ephron at a special memorial service in New York.
Ephron, whose hit films include When Harry Met Sally and Sleepless in Seattle, died last month aged 71.
800 friends and family were invited to the Lincoln Center for the service.
Ephron had planned the memorial herself, according to The New York Times , choosing the speakers and putting them in a folder marked 'exit'.
Actor Martin Short took the stage first and revealed he'd been instructed by Ephron's son Jacob Bernstein: "Don't be afraid to be funny".
Sleepless in Seattle star Tom Hanks and wife Rita Wilson performed an imitation of an average night with Ephron and her husband of 28 years, Nick Pileggi, according to The Huffington Post .
Meryl Streep, who starred in two of Ephron's films, called her "the hub of a friendship wheel".
Oscar-winner Streep played celebrity cook Julia Childs in Julie & Julia, and also starred in Heartburn, based on Ephron's novel about her own divorce from journalist Carl Bernstein.
She said talking about the legendary screenwriter was a difficult assignment.
"How do you talk about a friend who said everything you wished you could say?" Streep asked the audience. "Everything you wanted to say in the world, but better and shorter and funnier?"
Ephron died of pneumonia on 26 June, brought on by acute myeloid leukaemia.
Family members also spoke at the service, including sister Delia Ephron and son Jacob Bernstein.
He said: "She was my best friend, my biggest cheerleader, and a total drill sergeant, which is basically what a great parent is supposed to be".
Actress Meg Ryan, who worked with Ephron on When Harry Met Sally, Sleepless in Seattle and You've Got Mail also attended, as did Steve Martin who starred in My Blue Heaven.
Those paying their respects from the world of entertainment, media and publishing included Matthew Broderick, Sally Field, fashion designer Diane von Furstenberg, US television journalist Barbara Walters and New York Mayor Michael Bloomberg.
Speeches were also given by director-producer Mike Nichols, Rosie O'Donnell and Washington Post columnist Richard Cohen.
Cohen said: "She was a latter-day, urbane Mark Twain. And she could cook."
To reflect Ephron's love of cooking, which inspired her to write and direct 2009's Julie & Julia, the memorial's programmes contained her recipes, including one for coconut macaroons.
It is reported guests also sipped pink champagne in her honour after the service.
Ephron's assistant of 14 years J.J. Sacha was the last speaker and introduced highlights from her movies, saying: "She was proud of her work, and so she should be."