Eric Sykes: Your memories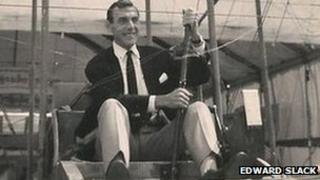 British comedian Eric Sykes has died at the age of 89.
A much-loved writer and actor, he made his name in 1950s sitcom Sykes And A... and appeared in The Goon Show and silent comedy The Plank.
BBC News website readers have been sharing their memories of the man described by Bruce Forsyth as one of "greats of comedy".
Ken Bolt in London
I met Eric in about 1957 when I was working for a builder renovating a house just off Kensington High Street. The house was opposite his and I would see him leaving home every morning.
One morning I was working on the parapet and as Eric left for work he looked at me and shook his head as I was perched on top of the roof.
I grabbed the scaffold rope and made a "Tarzan" bellow and he smiled and walked up the road.
The next time he saw me on the scaffolding he smiled, said "Good morning" and banged his chest with his fists.
One day during the renovation, we were having some floorboards delivered just as Eric was leaving home.
I had a floorboard on my shoulder and as I swung round to say "Morning Eric", the floorboard hit the ladder while one of my work mates was still on it!
After hearing a few choice words from my colleague, Eric disappeared up the road laughing his head off.
Years later when I saw his film The Plank, I did wonder where he got the inspiration...
Simon Anthony in London
In the 1990s, I worked as a VT recording engineer at Central TV studios in Lenton Lane, Nottingham, where Eric Sykes starred in The 19th Hole, a situation comedy set in a golf club.
To my delight, I met him during a lunch break in the canteen queue. He was just one of us, waiting in line. Even as he stood there waiting for his food, he was entertaining the crowd. I am proud to say I stood near the last Goon of all.
I hope the recording I made of his "back of a chair" set piece still exists - it was brilliant. You wouldn't think anyone could make a chair seem so complicated and keep the scene going for more than 10 seconds, but it defied belief. He just kept going and going with it until "Cut" was ordered, giving a backdrop to the closing credits. Sadly, I never saw that go out.
Larry Smith in Lincoln
In the mid-1980s, I was working at a garage near Elstree studios and he came in to get a puncture repaired on his car. Instead of sauntering off, he stayed to chat.
He was very down-to-earth and a complete gentleman. He sat on his damaged wheel and told me jokes and stories of his life. They were so funny I was in tears.
He also gave me £20, and as he left he put something in my pocket and said: "Here's a drink from my friend Tommy Cooper." I thought he had put some money in, but when I looked inside it really was a drink - he'd left me a teabag!
It is a sad day today, and I will never forget him.
Paul Warren in Aveley
I was lucky enough to have met both Eric Sykes and Spike Milligan. When I met Eric, I was 13 years old and at a celebrity golf tournament for the Sparks charity in the 1990s.
I had just bought a new camera and was taking pictures of all the celebrities I could.
Eric saw me trying to take a picture of him. When he had finished his shot, he gave me a big smile and took off his cap and posed for the camera and shared a joke.
A true gentleman. Spike (Milligan) was also lovely to meet and wrote to me when I was older.
He was such a talent and a lovely, approachable, man. I was a big fan.