Eric Sykes: Tributes paid to comedy star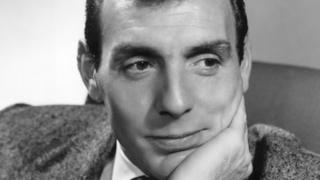 Stars from the world of comedy and entertainment have been paying tribute to Eric Sykes, who has died at the age of 89.
He enjoyed a career that spanned five decades and was still working on TV, film and on stage in his eighties.
For 20 years, his BBC TV series Sykes was one of the nation's most popular programmes.
Bernard Cribbins
He will be very sadly missed. I just wish him a lot of rest up there with all the other comics, Spike Milligan and Harry Secombe. They will all be up there, having a laugh together.
I first met Eric in 1949 in Oldham at the local rep theatre. I was on demob leave from the Parachute Regiment and went to the theatre just to see people.
I got chatting to Eric and said I wasn't quite sure what to do after coming out of the Army. He suddenly started doing a one-legged darts player routine in the middle of the street, which I have never forgotten.
He was a very, very good writer, not only for himself but for other people as well. There was a strange, quirky, off-beat quality to his writing.
Sir Bruce Forsyth
Eric was one of the greats of comedy in this country. He was universally loved here.
He was just one of the funniest men ever in comedy. What a shame so many young people would never have seen him in his prime.
He was very lovely, very gentle and not a loud-mouth. He was a very clever writer. His scripts were amazing.
[On 1967 film The Plank] Everybody in showbiz was in that film but me! I used to rib him about that terribly.
Jimmy Tarbuck
He was a gentle man and a gentleman. There's a big difference between the two but he was both.
I met him all the time on the golf course - he was a golf nut. His love of the game was as big as anyone I know.
Eric was playing golf one day and he left a big box of matches on the green. Sean Connery's ball rolling up the green hit the matches and he went potty.
"Eric," he said. "You've left your matches on the green!" And this was when Eric used his deafness.
"Yes, I made four," he said. Well, we all fell on the floor.
That was Eric, to say the least. He was a comedy genius and there's not many of them.
Paul O'Grady
[on meeting Eric Sykes on a train] I thought "I've got to say hello" and we had a chat and he asked me what I did.
He said: "Comedy's a funny game, it's a not a job, it's a vocation - you never stop." And he was right.
He was a charming man. He'll be remembered with great affection.
Ken Dodd
He was a joy to be with, a wonderful man to know, a genius. He was a genius at creating comedy, he found laughter in anything. More than anything else, he loved everybody and everybody loved him.
He was never cruel or nasty with his comedy. He was a wonderfully creative man and internationally famous.
He worked with the great stars but never got big-headed. He was brave and courageous, wanting to work despite the difficulty with his hearing and sight.
It was a joy to know him. He loved laughter. He came to see me [on stage] in Blackpool and I went to see him in a play in London. I was in the audience for about 10 minutes when I found myself on stage with him. That was the kind of man he was.
Michael Palin
He was one of the nicest, most decent men in the business and one of a kind. No one else could do what Eric could do.
To me, he was a great inspiration, both as a writer and performer.
Jon Plowman - former BBC head of comedy
In a way his genius was both as a scriptwriter, at which he was excellent, but also as a man who could just do stuff off the cuff, which is why The Goons is so wonderful.
Stephen Fry
On Twitter: Oh no! Eric Sykes gone? An adorable, brilliant, modest, hilarious, innovative and irreplaceable comic master. Farewell, dear, dear man.
Mark Gatiss - actor and writer
On Twitter: The wonderful Eric Sykes has left us. A giant of comedy and a gentleman - funny to his very core. RIP.
Paul Daniels - magician
On Twitter: RIP Eric Sykes. This man was a REAL Comic Genius and one of the funniest men you could ever meet and talk to.