Will.i.am enjoys first solo UK number one single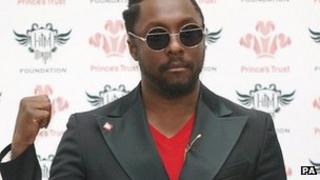 The Voice judge Will.i.am has topped the UK singles chart with his new release, This is Love, from his forthcoming album #willpower.
The track, featuring Eva Simons, took the number one spot from US rockers Maroon 5 in a US-dominated top four.
Chris Brown's Don't Wake Me Up entered at three, while rapper Flo Rida's Whistle dropped one place to four.
The highest British entry was Cheryl Cole, whose track Call My Name took the number five spot.
This Is Love is Will.i.am's first solo number one, notching up 102,000 sales.
He said: "I've had Number Ones before with the Black Eyed Peas, but to me this one means so much, because I know people thought I can only be successful in the Black Eyed Peas, they were wrong."
Muse's new single Survival, the official Olympics song of London 2012, which has had mixed reviews, entered the chart at number 25.
Maroon 5, led by tattooed frontman Adam Levine, were also pipped into second place in the album chart.
Their LP Overexposed was beaten by nu-metallers Linkin Park who landed their third UK number one album with Living Things.
Justin Bieber, who held the UK number one spot for the first time last week, dropped down to four.
The only other new entry in the top 10 was Wild Ones by Flo Rida, which entered at number eight.