Nora Ephron play 'to go ahead'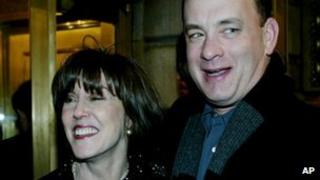 The producer of screenwriter Nora Ephron's new play, Lucky Guy, has said he is "committed" to staging it on Broadway, despite her death this week.
Colin Callender said he could "think of no more fitting tribute to her extraordinary writing and remarkable body of work".
The play tells the true story of US reporter Mike McAlary, who won a Pulitzer Prize in 1998 for his expose of police brutality in New York.
It was expected to run next year.
"At a moment like this, there is nothing to say but extend our deepest condolences," Callendar said in a statement.
"Her light and laughter will remain a testament to her incomparable talent, wit and heart.
"We are honoured to be part of her legacy and remain committed to seeing her magnificent work shine on Broadway."
According to The Hollywood Reporter , the play was given a reading last year with Hugh Jackman in the lead role.
It was later reported that Tony-winner George C Wolfe was attached to direct, while Tom Hanks - who appeared in two of Ephron's films - was in advanced negotiations to star.
The play had been expected to go into rehearsals in January. However, Callender gave no further details regarding its timeline, or whether Hanks or Wolfe were still attached to the project.
Ephron, who was best known for writing When Harry Met Sally and Sleepless in Seattle, died on Tuesday in New York of complications relating to acute myeloid leukaemia aged 71.