Stephen Mangan talks pregnancy as he takes on Royal Court role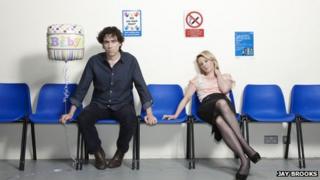 Stephen Mangan's latest stage role casts him as a man awaiting the birth of his second child. But this is a pregnancy with a twist.
SPOILER WARNING - If you do not wish to know any more about the play Birthday please do not read on.
"If the way I look in this play is the future of male pregnancy then God help us all," laughs Stephen Mangan when we meet in the downstairs bar of the Royal Court.
Soon, Mangan will be off to his dressing room to strap on the latex belly and breasts that will transform him into Ed, a 30-something man about to give birth in the delivery suite of a London NHS maternity hospital.
Mangan and Lisa Dillon play the parents in Joe Penhall's blackly comic Birthday , which opens at the theatre in London's Sloane Square this week.
Scarred by the difficult, conventional birth of their first child, Ed has opted to bear the couple's second child with the aid of hormone therapy and a fake womb.
Early publicity for the play omitted to mention the central conceit. Only in the last few days has the twist become public.
How hard, I ask Mangan, has it been to keep the secret during rehearsals?
"I haven't tweeted it and it's nice for an audience to be surprised, but it's revealed in the first two seconds so it's not as if we're going to have to swear them to secrecy at the curtain call. Luckily the play doesn't stand on that alone."
Mangan, who has two children of his own with his actress wife Louise Delamere, admits that childbirth is a difficult subject and one that is rarely tackled on stage.
"Joe's put a lot of himself into it. It's a personal, brave and deeply human piece that he's written.
"I can't think of another play about this subject. And how many songs are written about childbirth? Has anyone done The Placenta Blues?"
How does Mangan feel when he puts on the pregnancy bodysuit?
"It's hard to complain about it to my wife. I come home and say the thing weighs nearly two stone, and I just get wry looks. I don't have to wear it for nine months - it's just 90 minutes a day.
"It's very peculiar, but you do see men walking around with beer bellies that size, so it's not as if that shape is completely alien to us."
Penhall's play deals with the huge range of emotions that are involved in the birth process - for both partners. "It's not just the elation and the pain," explains Mangan.
"There's also the boredom, the anxiety, the fear, the jealousy. There's a tumult of emotions that wash through you on probably the most unusual day of your life."
Mothers, the actor notes, "tend to be quite Sphinx-like" about the whole birth process.
"You'd think they'd want to forewarn people. Not just about the physical humiliations and terrors and agonies, but also the mental gymnastics and flip-flops you go through.
"For such an important process in our lives it seems to be relatively under-talked about."
In preparing for the role, Mangan met heavily-pregnant women, midwives and a hospital registrar. He also credits TV show One Born Every Minute as a good source.
"I'm not the sort of person that cries at telly, but when that baby comes out I'm in tears every single time. It takes me back to that moment when my own children were born."
Birthday marks Mangan's return to the stage after three busy years in television with such shows as Episodes, Dirk Gently and The Hunt for Tony Blair.
His last theatre role was The Norman Conquests at the Old Vic and on Broadway in 2008-9.
"Considering I consider myself a stage actor first and foremost it does take some explaining," says Mangan.
"It's great to be back. When you are involved in comedy it's very nice to say something funny and hear people laugh. On a TV set you only hear the silence of technicians going quietly about their work."
Bizarrely, Mangan's wife is also playing a pregnant character on stage, in Dominic Savage's Fear at the Bush Theatre.
"It's got to be a first in the history of actor couples," says Mangan. "My father-in-law said this morning, 'I bet Larry and Viv never did that!'"
Birthday is at the Royal Court, in Sloane Square, London until 4 August