Travolta sued by author of spa sex book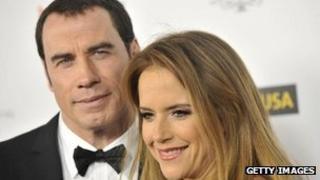 John Travolta's lawyer has called libel action taken against the actor by the author of a book about the star's alleged sexual encounters 'absurd'.
Robert Randolph claims that Travolta and his lawyer, Martin Singer, spread false statements about his mental health in 2010 in an attempt to dissuade people from buying his book.
He is seeking unspecified damages from both the actor and his lawyer.
Mr Singer has called the libel action "absurd".
"The suit is based on a privileged communication, and it will promptly be thrown out by the court," a statement released on behalf of Mr Travolta said.
Robert Randolph's book, You'll Never Spa in This Town Again, was published in February 2012, three months before two unidentified male masseurs filed sexual assault claims against Travolta.
Both accusers dropped their legal action in May this year, after doubt was cast on the details of their alleged encounters.
Pulp Fiction star Travolta has always denied the claims made against him.
'Malicious prosecution'
In a statement, Martin Singer called the fresh libel lawsuit "ridiculous". He said Travolta would aggressively defend himself against the claims and expected to be fully vindicated.
"We intend to sue the attorneys for malicious prosecution after the court promptly dismisses this baseless lawsuit," he added.
Travolta was Oscar-nominated for his roles in Saturday Night Fever and Pulp Fiction and has been married to the actress Kelly Preston since 1991.
The couple have two children. Their teenage son Jett died in 2009 during a family holiday in the Bahamas.