London 2012 Festival sells half of its 4m tickets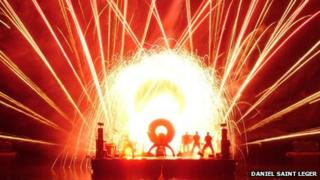 Two days before London 2012 Festival begins, organisers have revealed that about half of the event's 4m paid-for tickets have been sold.
Another 2.3m free tickets, out of a total 10m, have been snapped up for the 12-week arts festival.
Speaking on Tuesday, Culture Secretary Jeremy Hunt said he didn't think the "penny had yet dropped" with the public regarding the scale of the endeavour.
The festival launches on Thursday with five headline events across the UK.
These include an inflatable replica of Stonehenge by artist Jeremy Deller at the National Botanical Gardens in Carmarthen, and a pyrotechnic display in the sky above Windermere.
Other events take place in Stirling, Londonderry and Birmingham.
There are more than 130 events during the opening weekend and more than 25,000 artists from all 204 Olympic nations will take part over the 12-week festival - which is billed as the climax to the four-year Cultural Olympiad.
Tony Hall, the Cultural Olympiad chairman, said the take-up of tickets had got off to a "really strong, positive start".
More than 2m people have already bought tickets for the London 2012 Festival and countdown events such as the David Hockney exhibition at the Royal Academy of Arts.
Hall also said that many arts organisations had won new audiences through the Festival programme. Some 80 per cent of the audience at the recent Globe to Globe season at Shakespeare's Globe were new attendees.
Culture Secretary Jeremy Hunt described the London 2012 Festival as "a huge moment" in the UK's cultural history.
"I don't think the penny has yet dropped with the public," he said.
"I think they are beginning to appreciate the scale and the excitement of the Games, but the scale and the excitement of the biggest cultural festival in our history is still something that people have yet to appreciate."
He added: "Hopefully it will excite culture vultures but also excite lots of people who haven't previously engaged with the riches that we have."
The festival begins on Midsummer's Day, 21 June, and runs until 9 September - the end of the Paralympic Games.
Other highlights in the first week include comedian and musician Tim Minchin performing at The Eden Project near St Austell in Cornwall, and Jay-Z and Rihanna headlining the Radio 1 Hackney Weekend.
Festival director Ruth Mackenzie said she hoped the £55m cost of the festival would prove to be "pretty good value for money".