Poetry Parnassus: Global poets set for 'massive' gathering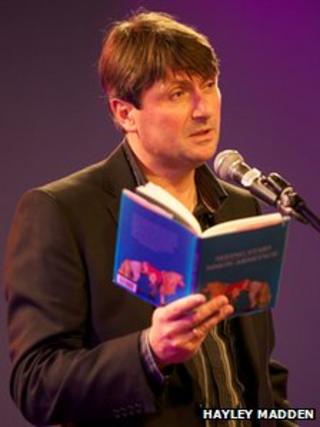 Are there any poets in Monaco? That's the question that's been asked by the organisers of the largest ever global gathering of poets in London next week.
Despite repeated call-outs, poets from the tiny principality on the French Riviera remained elusive.
The Poetry Parnassus , which launches on Tuesday, aims to feature poets from all 204 Olympic nations.
"Pretty much the whole of the Olympic world is here in body or spirit," said festival curator, poet Simon Armitage.
In April, a public call went out for poets from 23 "missing" countries.
But despite a year of searching and consultation the organisers did not come across one nomination, idea or name for a living poet from Monaco within the deadline.
"I'm tempted to assume everybody's just driving around in Lamborghinis," joked Armitage.
"It's not through a lack of effort on our part. We could not have been more open in our invitation."
Members of the public were invited to nominate their favourite poet via a weblink - more than 6,000 nominations were received.
Around 150 poets from from across six continents will attend the Poetry Parnassus, with others participating via the internet, or appearing on posters.
"There's still a certain amount of chaos around it," Armitage admitted.
"The number of poets keeps fluctuating on a day by day basis. We're still waiting to hear about their visas and travel arrangements.
"It's a bit like a massive party. You send all the invitations out and you're not sure who's going to turn up. But we're certainly not going to be alone."
Poetry Parnassus will launch on Tuesday with a Rain of Poems - 100,000 bookmark-shaped verses - dropped from a helicopter over the Southbank Centre's Jubilee Gardens, next to the London Eye.
The event, the UK's largest poetry project, is part of the London 2012 Festival.
Writers set to take part include Jang Jin-sung - former court poet to North Korean dictator Kim Jong-il.
Sudanese poet Al-Saddiq Al-Raddi will be attending having had his visa confirmed this week.
"It's a huge breakthrough because we've been struggling with the visa issue - and this is someone whose voice we really want to hear," said Armitage.
However, organisers said on Friday that Syria's Rasha Omran had had her visa application turned down.
Jo Shapcott will represent Great Britain, while Nobel Laureate Seamus Heaney will represent Ireland.
The week-long event, which runs from 26 June to 1 July, will include readings, talks and performances in over 50 languages.
It is inspired by Mount Parnassus in Greece, which was said to have been the home of the Muses - the goddesses of literature, science and the arts in Greek mythology.
Poetry Parnassus has been billed as "the largest gathering of international poets in world history".
"We haven't just put it together for that intention but it's occurred to us that that's very likely to be the case," said Armitage.
"My feeling is that, on an international scale, it is unprecedented. I'm not even sure that it could ever happen again."
Parnassus poets have contributed to a special anthology, The World Record, to be published on 26 June. Some countries - such as Guinea-Bissau, Liechtenstein and Gabon - are represented by deceased or anonymous poets.
Monaco's anthology entry is from Georges Franzi (1914-97), a poet who championed the preservation of his ancestral language, Monegasque.