Madagascar 3 still most wanted at US box office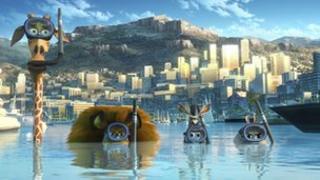 Madagascar 3: Europe's Most Wanted has held on to the top spot at the US box office, according to early estimates.
The animated sequel took $35.5m (£22.6m) in its second weekend on release, keeping Sir Ridley Scott's Prometheus at number two again.
Sir Ridley's sci-fi epic made an estimated $20.2m (£12.8m) between Friday and Sunday.
Musical film Rock of Ages, starring Tom Cruise and Catherine Zeta-Jones, made its debut at number three.
Adam Sandler's latest movie, That's My Boy, also failed to deliver, entering the chart at number five with a $13m (£8.2m) haul.
Snow White and the Huntsman, now in its third weekend, came fourth in this week's chart.
"Sure, we would have liked to have done more," said Rory Bruer of Sony, which released That's My Boy.
"But you've got to hand it to Adam. He mixes it up. This is a really off-the-wall comedy."
'Back on track'
That's My Boy casts Sandler as a middle-aged man trying to establish a relationship with the son he fathered as a teenager.
Rock of Ages is adapted from the stage show of the same name and features cover versions of many 1980s rock hits.
Dan Fellman of Warner Bros said he hoped the film would pick up business in the coming weeks.
"There have been a couple [of musicals] like Hairspray and Mamma Mia that tend to have good holding power," he said.
"We're hoping we can get back on track."
Final North American box office figures will be released on Monday.