Israeli authors fight book deals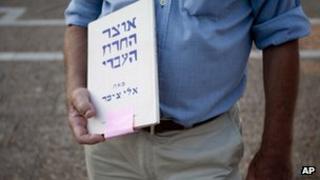 Discount book deals could become a thing of the past in Israel, where authors have launched a battle against two leading bookstore chains.
The writers claim slashed prices are eating into their royalties.
Parliament is expected to approve a bill enforcing tough limits on discounts, after the group gained support from Prime Minister Benjamin Netanyahu and government ministers.
Retailers would be banned from cutting prices on new books for 18 months.
Price-slashing is common at Israel's two largest competing booksellers, Steimatzky and Tzomet.
Customers have welcomed the discounts - as low as $6 a book (£3.80) compared to catalogue prices of $15 or $20 (£10 or £13) - which have also benefited younger, unknown authors.
However, established authors, publishers, editors and others in the book industry have struggled to survive.
The bill would also see royalties set at a minimum of 8 percent of the book's marked price for the first 6,000 sold, and at least 10 percent for all books sold after that number.
A statement from the prime minister's office said: "As the People of the Book, we are committed to maintaining the income of the authors who create our cultural treasures."
Jews are known as People of the Book because their identity is rooted in the Bible, but literary books are also a big part of Israeli culture.
Discounts 'humiliating'
A similar debate has played out around the world and several countries, including France, Germany and Mexico, have already passed laws against price-slashing.
High street chains and independent booksellers are facing increasing competition from e-books and the huge discounts available on sites such as Amazon and in supermarkets.
In Israel, the two big chains dominate 80% of all book sales, and critics claim they are putting profits first, something the booksellers deny.
"The competition between the two main booksellers is the problem," said Ben-Shmuel from the Book Association of Israel. "Authors are sick of working for free."
Book chain Steimatzky's chief executive, Iris Barel, has welcomed the new legislation and said her company would comply with whatever is decided.
The debate takes centre stage as Israel celebrates Hebrew Book Week, with special book fairs all over the country.
Ten leading Israeli authors, including Amos Oz and David Grossman, have objected to having their books discounted at fairs, saying: "We can no longer participate in the humiliation of our works in particular, and Hebrew literature in general."