Pittsburgh Symphony Orchestra contest finds no winner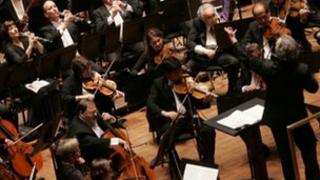 An online competition run by a US orchestra to find a new soloist has ended without a winner after failing to find anyone good enough.
The Pittsburgh Symphony Orchestra (PSO) had invited musicians to submit clips via YouTube for the chance to perform at two symphony concerts this autumn.
However despite flying four finalists to Pittsburgh for auditions this week, no winner was chosen.
The orchestra said it had been a "a very difficult decision".
"What we were searching for was an unknown soloist at a level to perform a concerto with the symphony on its flagship series," said Bob Moir, PSO's senior vice president of artistic planning.
"That's where we set the bar, that's what we were looking for. We did not find it.
"We were very pleased with the four finalists, but we always maintained the right not to pick a winner."
The orchestra announced the contest in February with the hope of finding talented musicians who were not already represented by talent agencies and who otherwise might not have come to the symphony's attention.
Violinist William Hagen, pianists Benjamin Hopkins and Manon Hutton-DeWys and cellist Angela Park were chosen as finalists after a public vote on the PSO's YouTube channel .
They auditioned on Monday for a jury made up of the orchestra's music director Manfred Honeck, conductors, musicians and staff.
"This is the first time that anybody's ever tried to do this. We had no idea what we would find," said Mr Moir.
"We did, however, find some wonderful young musicians who we encouraged as strongly as we could to continue their growth. We will follow developments in their young careers with great interest."
Mr Moir added that the orchestra expected to try the competition again as it was "an interesting experience" and that it would apply lessons learned from this attempt.