Elvis Presley to be digitally recreated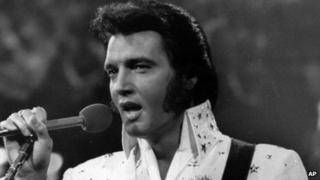 Elvis Presley is to be digitally recreated for a series of live shows and TV appearances.
A virtual likeness of the late singer will be produced for the performances by the same company who made a Tupac "hologram" earlier this year.
The digitally resurrected rapper made a headline-grabbing appearance at the Coachella music festival in April.
Elvis Presley Enterprises said: "This is a new and exciting way to bring the magic and music of Elvis to life."
"His lifelong fans will be thrilled all over again and new audiences will discover the electric experience of Elvis the performer."
The technological brains behind the project are The Digital Domain Media Group, co-founded by Avatar director James Cameron.
They have previously created computer-generated human characters for films including The Curious Case of Benjamin Button, TRON: Legacy and X-Men: First Class.
They also animated the figure of Tupac seen performing alongside Dr Dre and Snoop Dogg at the Coachella Festival.
That performance was staged by AV Concepts and the UK-based Musion Systems, who previously enabled Madonna to perform with cartoon hip-hop band Gorillaz at the 2006 Grammy Awards.
Although the striking, 3D images have been called "holograms", they are in fact the result of an optical illusion pioneered in the Victorian era.
Known as Pepper's Ghost, the illusion involves projecting the image on an angled piece of glass, according to the Wall Street Journal .
Presley died in 1977 aged 42. His biggest hits included Heartbreak Hotel, Hound Dog, All Shook Up, Jailhouse Rock and Suspicious Minds.
His band still tour today , playing along to archive footage of the singer, which is projected on big screens in venues including London's Wembley Arena.