The Hunger Games wins four MTV movie awards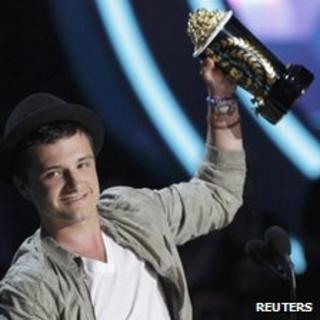 Box office hit The Hunger Games beat the competition at this year's MTV movie awards, winning four of the eight prizes for which it was in contention.
Its stars Jennifer Lawrence and Josh Hutcherson were both recognised, with additional gongs coming for best fight and "best on-screen transformation".
Bridesmaids, the penultimate Twilight instalment and the final Harry Potter film won two awards apiece.
Russell Brand hosted the ceremony, held at Universal City in Los Angeles.
The event saw actor Johnny Depp receive the MTV Generation Award, the show's version of a lifetime achievement trophy.
"It's like the 'get out of the business award' because you've done too much," joked the Pirates of the Caribbean star, going on to perform with rock duo The Black Keys.
Other prizes went to former Friends star Jennifer Aniston, whose role as a predatory dentist in Horrible Bosses saw her named "best on-screen dirtbag".
Shailene Woodley, meanwhile, received the breakthrough performance award for her work opposite George Clooney in The Descendants.
Harry Potter and the Deathly Hallows Part 2 won the best cast and best hero awards, while The Twilight Saga: Breaking Dawn Part 1 won movie of the year.
The vampire sequel also took home the best kiss award, for the fourth year in succession.
Bridesmaids actress Melissa McCarthy, Oscar-nominated earlier this year for her role, received the best comedic performance award.
The raucous comedy was presented with an additional prize for "gut-wrenching performance" that recognised the scene in which its female stars battle food poisoning.