Dexys: Back, against the odds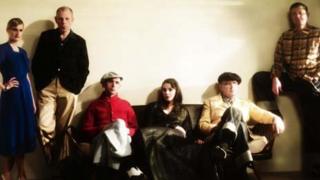 It's been three decades since Dexys Midnight Runners established a cult following with their unique mix of soul-inspired, Celtic folk music.
Back with a fourth album, One Day I'm Going to Soar, the band are now known simply as Dexys. But that's not all that has changed.
Frontman Kevin Rowland, famous for his perfectionism and intensity, says he has grown up... "largely".
"I do feel like I'm someone else now in a lot of ways," he told the BBC.
It's been a long, and at times tough road for the 58-year-old singer-songwriter since the group disbanded in 1985, two years after the release of Don't Stand Me Down.
Rowland's attempts at a solo career in the 1990s failed and, while the band reunited for a well received tour in 2003, it has taken almost a decade for them to produce any new music.
Rowland admits he "wasn't in the right place" to make this album five or 10 years ago.
"Things just didn't really seem to fit, to fall into place. I went through periods where I lost the will to do music. There always seemed to be some reason not to go forward."
Perhaps due to his tendency to be self critical, Rowland didn't feel his voice was "up to it". So, he enlisted the help of a singing coach, who made him break down each song and think about the emotions he was trying to convey and communicate.
"She helped me sing properly and to really understand what I'm trying to sing."
Rowland also credits his manager, Tim Vigon, for helping to Dexys make an album which music critics have dubbed " the comeback of the year ".
"He never pushed me, he never rushed me. Somehow he created the conditions that allowed this to happen. He created a calmness."
'Right time'
Material for the new album was written between five and six years ago, but it was the middle of 2010 before the band got into the studio to begin recording.
When it did come together, he says, "things just felt right".
"I know it sounds ridiculous 'cause it's such a long gap but everything seemed right and everybody was in the right place and we were lucky."
Rowland enthuses - momentarily - about being back on stage again, but his anxieties about underperforming bubble under the surface.
"I'm loving it when it's really going well and the gig is over or nearly over and we've done well."
"If you're well-rehearsed and you're connected to the audience and they're completely listening to you, it's like [the music] is coming through you, rather than you trying to do anything."
"Running up to the shows, it was like anxiety."
In advance of the album's release last week, Dexys played a number of gigs to rave reviews.
So how is a man known for preferring the simple life, out of the spotlight, dealing with renewed popularity?
"My ego likes a bit of praise! But I'm better off not reading any press. I find that difficult."
Rowland also finds it hard to talk about the past. With the passing of time and a programme of recovery from cocaine addiction, he says he's a different person "in a lot of ways".
"When I'm asked, 'what did you mean in this lyric?', or all the methodology that surrounds Dexys, when they ask me to comment on that, I feel the life drain out of me."
"Some of that's 30 years ago. A lot's happened."
The band are set to tour the UK in September and Rowland is keen for an opportunity to play in Europe "or even America". There's also talk of an Australian album release. But a follow-up to this album is steadfastly dismissed.
"I'd love it if we continued playing. I'd like to carry on. But I can't think about doing [an album] now.
"I'd be lying if I didn't say that doing [this] one was taxing. It took a lot out of me and there were days the anxiety would get to me, it was draining.
"I've got a couple of ideas but at the moment the idea of it makes me feel horrible. Horrible. Not in a way that I hate the music but I couldn't do it right now. I couldn't put myself through that."
Rowland "can't live with things that aren't right". So it's a pleasant surprise to hear him say he's "happy" with every single song on the album.
One Day I'm Going to Soar bears much resemblance to Rowland's life. He says it's a drama, a story that was written, but admits "you can't help your own life seeping into it a bit".
The music, a blend of folk and soul with theatrics mixed in, is recognisably Dexys. But it is not to be likened to the band's biggest hit, Come On Eileen.
"It's like it was done by somebody else now," says Rowland.
One Day I'm Going To Soar is out now.