Ellen DeGeneres pays tribute to producer Jim Paratore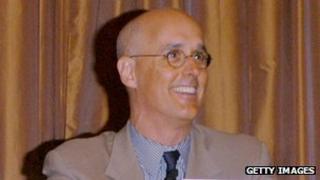 TV producer Jim Paratore, who helped create The Ellen DeGeneres Show and The Rosie O'Donnell Show and launched the TMZ website, has died at the age of 58.
Paratore was credited with resurrecting DeGeneres' career after she came out as gay in 1997.
He suffered a heart attack while on a cycling holiday in France.
DeGeneres said on Twitter that Paratore was a "friend, producer and champion", adding: "He gave me a chance when no one else would. I love you, Jim."
Paratore spent much of his career at Warner Bros Television and his other credits included such reality shows as The Bachelor, Judge Mathis and High School Reunion.
He also helped launch a talk how starring Sharon Osbourne, who paid tribute to him as "a gentleman and consummate professional".