Dirk Gently detective series dropped by BBC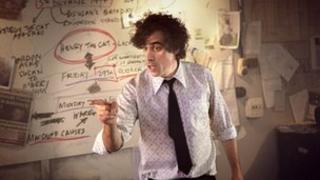 The BBC is to produce no further episodes of its Douglas Adams-inspired Dirk Gently series, its star Stephen Mangan has announced on Twitter.
"It gives me no pleasure whatsoever to report that the BBC have decided not to make any more," he told his followers.
More than a million viewers watched the pilot when it was aired in December.
But a subsequent three-part series did not fare as well, with just under 600,000 viewers tuning into BBC Four for its final episode in March.
The show, based on Adams's "holistic" detective, also featured Darren Boyd as Gently's sidekick Richard MacDuff.
Mangan can currently be seen in the second series of Episodes on BBC Two, alongside Matt LeBlanc and Tamsin Greig.
"We've loved having Dirk on the channel but the licence fee freeze means less British drama on BBC4," said a BBC spokeswoman.
"In future we will focus on the best dramas from around the globe, like The Killing and Borgen, whilst BBC One and BBC Two become the main homes of original British drama."
BBC One and BBC Two have been focusing more on home-grown drama of late, while US imports such as Damages have moved to commercial and satellite channels.
Boyd won the prize for best male performance in a comedy programme at the Bafta TV awards on Sunday for his role in Sky One sitcom Spy.