Eurovision Song Contest: Elvis inspires Humperdinck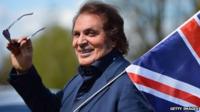 Engelbert Humperdinck is set to take to the stage for the UK at the Eurovision Song Contest in Baku, Azerbaijan.
The veteran crooner, 76, will perform his ballad Love Will Set You Free carrying a necklace, a gift from Elvis Presley, to bring him luck.
Among his competitors are the Jedward twins representing the Irish, and six singing grannies from Russia.
The event has been controversial, with dozens of anti-government protesters held by police near the contest venue.
Many wore T-shirts bearing the words "Sing for democracy".
'King of song'
More than 100 million people are expected to tune in to watch the glittery show in Baku's Crystal Hall.
Choreographer Arlene Phillips, who is staging Humperdinck's performance, said: "How fortunate we are that the UK has the King of Song representing us this year."
Bookmaker William Hill has him at 14-1 to win, with Sweden the favourite to lift the crown among UK fans.
Humperdinck, best known for his 1967 hit Release Me, is one of a handful of Elvis Presley's inner circle of friends to be given a necklace bearing the initials TCB, for "taking care of business".
The phrase was a personal motto of Elvis, and also the name of his backing band.
Humperdinck flew into Azerbaijan almost a week ago to prepare for the final.
He has met the Azerbaijani contestant Sabrina - a big fan of his - who wore a T-shirt with his photo bearing the phrase "king of hearts".
Meanwhile, Spain's entrant Pastora Soler has denied reports that she was asked not to win by her country's public television channel for financial reasons.
She said she had been misquoted following a widely publicised story quoting her as saying Spain would struggle to host the event if she were to win.
The public broadcaster of the nation that wins each year must go on to host the competition the next year.