Disco star Donna Summer's funeral held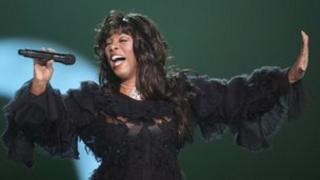 Hundreds of Donna Summer's friends and family have attended a private funeral ceremony in Nashville, Tennessee.
No cameras were allowed into the service at Christ Presbyterian Church, in the city where the five-time Grammy winner had lived since 1995.
Guests included producer and close friend David Foster, who performed The Prayer with singer Natalie Grant.
Known as the Queen of Disco thanks to a string of hits, Summer died last week at the age of 63, from lung cancer.
The singer's sisters also took part in a special tribute. Linda Gaines Lotman, Mary Ellen Bernard, Dara Bernard and Jenette Yancey sang gospel song We've Come This Far By Faith.
Other friends paying their respects included producer Giorgio Moroder, whose work with the late star included the hit tracks Love to Love You Baby and I Feel Love.
Summer's brother Ricky Gaines was reported to have spoken at the funeral, as well as several of her girlfriends, who shared anecdotal tales of their friendship.
She is survived by husband Bruce Sudano, three daughters, Brooklyn, Mimi and Amanda and four grandchildren.