Donna Summer track joins US Recording Registry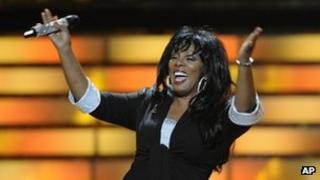 The Donna Summer classic I Feel Love has been named as one of 25 songs and other sounds to be inducted into the US National Recording Registry.
The hit joins The Grateful Dead's 1977 concert at Cornell University on the list of sounds of cultural signifiance.
Prince's Purple Rain and the Sugarhill Gang's Rapper's Delight are also on the list, along with other rare recordings.
I Feel Love was chosen for the registry several weeks ago, before Summer's death from cancer last week.
Matt Barton, the library's curator of recorded sound, said the song was selected because of its impact on club music.
"We hadn't heard this before," he said of the 1977 disco anthem. "It was enormously influential."
Leonard Bernstein's conducting debut with the New York Philharmonic in 1943 is among other musical extracts preserved for the library.
The soundtrack to 1970 TV film A Charlie Brown Christmas has also made the list due to its influence on introducing jazz to a wider audience.
The list also features a number of such rarely heard recordings as the sound of a talking doll captured by Thomas Edison in 1888 - the earliest known commercial sound recording.
Other non-musical recordings include rare footage of interviews with former US slaves from the 1930s.