London 2012: Coldplay to headline Paralympic ceremony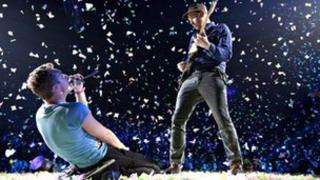 Best-selling British band Coldplay are to headline the closing ceremony of the London 2012 Paralympic Games.
They will take to the stage at the Olympic Stadium on 9 September for the ceremony, titled Festival of Flame.
Frontman Chris Martin called it "a great honour" and said the band were "very happy to be involved".
They will be among more than 2,000 performers at the event. The remaining tickets for the 11-day Paralympic Games went on general sale on Monday.
Martin added: "It will be one of the biggest nights of our lives and we're very excited to try to create a performance for the last night of the games that will close London 2012 in style."
The London 2012 Paralympics run from 29 August and will follow the Olympic Games, which take place from 27 July to 12 August.
The closing ceremonies are being co-ordinated by artistic director Kim Gavin, who has worked on Take That tours and staged the Concert For Diana in 2007.
"Our show will be a celebration of the UK as a centre for festivals, which is a fitting finale to the amazing festival of sport that is the London 2012 Games," he said.
London 2012 chairman Lord Coe said he was "delighted" that Coldplay had signed up to help them celebrate the "spectacular" event.
"The athletes involved in the Paralympic Games are incredible sportsmen and women and I urge everyone to take this chance to be there and to form memories that will last a lifetime," he said.