Avengers Assemble tops UK box office for third week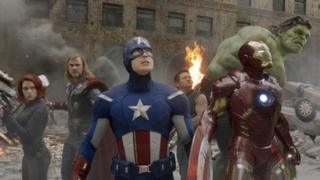 Superhero movie The Avengers has topped the UK box office for the third week in a row, taking over £40m to date in UK and Ireland.
The film has also crossed the $1bn threshold at the global box office.
It has grossed more than superhero predecessors Spider-Man, Spider-Man 2, Spider-Man 3, Iron Man, Iron Man 2, The Hulk, Thor and Captain America.
The film shattered records with a $207.4m opening weekend in the US, the biggest domestic debut of all time.
The blockbuster sees a team of Marvel comic-book heroes team up to fight an extra-terrestrial threat.
Among the cast are Robert Downey Jr, Scarlett Johansson and Chris Hemsworth - who have appeared in previous Marvel movies as Iron Man, Black Widow and Thor, respectively.
The film took £4.17m in UK box offices to stay at the top this week.
'Super-dope'
The Avengers was directed and co-written by Joss Whedon, creator of the TV series Buffy The Vampire Slayer.
An Oscar-winner for his work on Toy Story, Whedon has had a notoriously rough decade - with TV series Firefly and Dollhouse cancelled, and his horror film Cabin In The Woods delayed by three years due to financial trouble at MGM.
After The Avengers took $207.4m in the US last week - the biggest opening weekend on record - Whedon posted a public letter on his website, thanking his supporters.
"Topping a box office record is super-dope," he wrote.
Disney CEO Bob Iger said the company was planning an Avengers sequel sometime after the release of Iron Man 3 and Thor 2 next year, and Captain America 2 in 2014.
Elsewhere in the UK box office, American Pie: Reunion stayed in the number two slot in the second week of its release.
Tim Burton and Johnny Depp's Dark Shadows, was a new entry at number three, taking £2.4m.
And action film The Hunger Games is now at the number 10 slot after eight weeks in the charts.