John Travolta masseur withdraws assault claim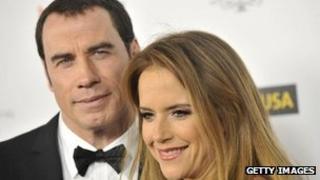 One of the two male masseurs who have accused actor John Travolta of sexual assault has withdrawn his legal action.
The unidentified man had claimed that the star groped him during a massage session in Beverly Hills in January.
A second masseur who claims Travolta made similar advances later that month in Atlanta is to press ahead with his case, according to his lawyer.
The actor's lawyer said the 58-year-old had been "completely vindicated" by the dismissal of the first complaint.
In a statement, Marty Singer said he expected his client to "similarly be vindicated" with regard to the second claimant, referred to in documents as John Doe No 2.
Okorie Okorocha, the attorney for both claimants, attributed the first masseur's decision not to proceed to disagreements over how to handle the case.
"Let's just say we had differences in opinion of how to handle the case and decided to part ways," he told People magazine.
The notice of dismissal was filed on Tuesday at the US District Court in Los Angeles.
Travolta was Oscar-nominated for his roles in Saturday Night Fever and Pulp Fiction and has been married to actress Kelly Preston since 1991.