Silver Clef honours for Lloyd Webber and Jessie J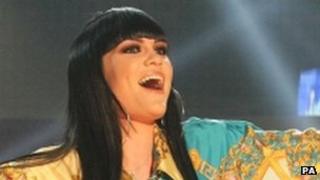 Lord Andrew Lloyd Webber will reunite with protegee Jessie J at this year's Nordoff Robbins 02 Silver Clef Awards.
Jessie J will present Lord Lloyd-Webber with a lifetime achievement award, 11 years after he cast her in the West End show Whistle Down the Wind.
Jessie J will receive the best British act award at the ceremony in June.
"It will be fantastic to see Jessie J again," said Lord Lloyd-Webber "I'm looking forward to celebrating with her and all the other winners."
The annual Silver Clef awards honour artists from across the music industry, while raising money for music therapy charity Nordoff Robbins. The ceremony takes place on 29 June.
'Musical legend'
"We're delighted to announce two incredible artists and inspirations to be joining us, touching the lives of so many supporters through music," said David Munns, chairman of Nordoff Robbins.
"Andrew Lloyd Webber is simply nothing less than a global musical legend.
"Having devoted his life to the arts, he is responsible for creating some of the most beautiful and unforgettable music of our time - and has been one of the UK's most generous philanthropists."
The musical impresario, who last year pledged £250,000 to Nordoff Robbins following the sale of a Picasso painting in 2010, said he was "honoured" to be receiving the lifetime award.
He is credited with giving Jessie J her first taste of the limelight when he cast her in his West End production of Whistle Down the Wind.
The Price Tag singer and global star is currently a judge on BBC One talent show The Voice.