Tim Burton vampire comedy takes on Batman's legacy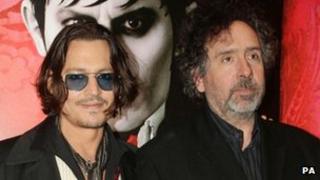 Blockbusters have never been the same since Tim Burton's Batman. How will Dark Shadows, his latest venture, fare in a cinema landscape that he helped define?
Summer releases like The Dark Knight Rises, The Amazing Spider-Man and current box-office champion The Avengers are testament to the pulling power of the comic book blockbuster.
Back in 1989 though, when Tim Burton's original Batman film first hit cinemas, the big-budget superhero "event" movie as we know it today was a relatively untested property.
With its Gothic shadings, outrageous villain and emphasis on its title character's psychological make-up, the film was a genuine pop-culture phenomenon that spawned a slew of imitators.
Looking back from a distance of more than two decades, does the 53-year-old ever feel like he gave birth to a monster?
"I laugh about it now because, at the time, Batman was quite difficult to get made," says Burton from beneath his trademark shock of unruly, greying hair.
"Back then they said it was too dark. But it looks like a light-hearted romp compared to nowadays."
The irony is that Burton's current offering, the blackly comic fantasy Dark Shadows, will have to compete for audiences with The Avengers.
Known in the UK as Marvel Avengers Assemble, the superhero ensemble piece is the latest in a long line of comic book-inspired features that have sought to emulate Batman's now legendary success.
It seems improbable that Dark Shadows will challenge The Avengers' dominance, with US tracking site Box Office Mojo declaring the film "has absolutely no chance of stealing the top spot".
Yet its director remains sanguine about such matters, telling the BBC News website that "you never can predict".
"You don't go into a movie going, 'This is going to be a big money-making thing'," he shrugs on the day after Dark Shadows' London premiere.
"You do something because you love it. Everything else is out of your hands.
"I've been lucky in my career in that I've had success and I've had failure," continues the man who has enjoyed plenty of the former with such titles as Charlie and the Chocolate Factory and Alice in Wonderland.
"I'm equally surprised if a movie does really well or if it does really badly."
'Creepy and campy'
Both Charlie and Alice starred Burton's regular collaborator Johnny Depp, who has joined forces with him again on Dark Shadows.
Based on a 1960s US daytime soap opera which the director has described as a "supernatural EastEnders", it tells of a vampire resurrected after 200 years who finds the world very different from the one he remembers.
Both Depp and Burton were fans of the original TV show and of its blood-sucking protagonist Barnabas Collins, played by the late Canadian actor Jonathan Frid.
"When Johnny was a kid he wanted to be Barnabas Collins," says the director. "For the first time since I've worked with him, it was a character that was really in his heart."
Actress Michelle Pfeiffer also has fond memories of the programme but insists prior knowledge is not a prerequisite for appreciating its current incarnation.
"Like most of Tim's films it has this big red stamp on it," she says of Shadows, which saw her working with Burton for the first time since Batman Returns in 1992.
"It's kind of creepy and dark, it's funny and campy and it has a weird sweetness to it."
The film's producers - who include Depp himself, Britain's Graham King and veteran Hollywood mogul Richard Zanuck - will be hoping that will be enough to entice cinemagoers.
Critical reactions have been mixed, with several reviewers opining that the film has many of the same elements as previous Burton-Depp pair-ups.
'Familiar'
"This is the eighth film that Tim Burton has made with Johnny Depp, and boy does it feel like it," was the verdict of Metro pundit Larushka Ivan-Zadeh.
The Guardian 's Peter Bradshaw, meanwhile, said "the Gothy, jokey 'darkness' of Burton's style is now beginning to look very familiar".
It seems unlikely, however, that the Sweeney Todd director will cast off the stylistic and tonal tropes that have served him so well in the past.
Frankenweenie, his next feature, is a case in point, being a full-length animation about a young man who uses science to bring his pet dog back to life.
Out in October in the UK, the film was inspired by a black-and-white short Burton made in 1984 which led to a parting of ways with his then-employer Disney.
It may give him some satisfaction, then, that the new Frankenweenie is being released by the self same studio.
"I loved doing it in live action, that was great, but the idea of doing it in stop-motion felt exciting and new to me," Burton explains.
"I also loved going back to my original drawings, which over the years have expanded with different characters and kids and monsters."
Dark Shadows is out now in the UK and Ireland.