Top Hat: Fred Astaire's daughter praises Tom Chambers role in musical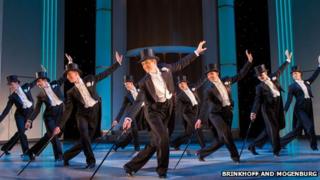 Tom Chambers said last night that he felt honoured that Fred Astaire's daughter was in the audience for the West End opening of the musical Top Hat.
The Strictly Come Dancing champion stars with Summer Strallen in the new stage production based on the 1935 RKO film with Astaire and Ginger Rogers.
Speaking after the gala opening at the Aldwych Theatre, Ava Astaire McKenzie said Chambers was "wonderful" in the role made famous by her father.
"There will always be comparisons, but what this show has done is bring a version to the world to see for the future," she told the BBC.
Directed by Matthew White and choreographed by Bill Deamer, the musical sees Broadway star Jerry Travers (Chambers) pursue girl-of-his-dreams Dale Tremont (Strallen) across Europe, but things get complicated when she mistakes him for her best friend's husband.
Chambers said after the show that having Astaire's daughter in the audience was "one degree of separation from the man himself".
"It's the biggest honour you could give to someone," he said.
"I was able to touch the very ring that he wore in the 1935 film that she now wears - so I hope if he's watching down from somewhere he's not cursing - he's saying 'you did good, you're entertaining people'."
The musical includes Irving Berlin's songs from the original film, such as Cheek to Cheek and Top Hat, White Tie and Tails.
In addition, 10 further songs from Berlin's back catalogue have been added including Let's Face the Music and Dance and Puttin' On the Ritz.
Berlin's daughters also attended the opening night. They had given their permission for their father's songs to be used after being approached by the show's producer, Kenny Wax.
Chambers, who won Strictly Come Dancing in 2008 with partner Camilla Dallerup, said that Astaire had always been his idol.
Prior to Strictly, Chambers was best known for his TV role of surgeon Sam Strachan in Holby City.
In a strange twist, it was a role he landed after sending in a video audition of himself performing a Fred Astaire tapdance routine.
"You don't mess with Fred Astaire," Chambers said. "You know it's going to be impossible to emulate him. I hope the audience think I'm not miles off the mark."
Summer Strallen said: "I wouldn't dream of saying I was a patch on Ginger Rogers. I would love to be. That's what I aspire to do, and if I even come close I'd be happy."
Chambers laughed off an incident on the opening night when he dropped his cane during the big dance number Top Hat, White Tie and Tails.
"It's typical that on your debut West End show something is bound to go wrong, especially when you are doing tricks with canes."
He added slightly sheepishly: "Luckily, it looked like I'd thrown it into the pit on purpose, though it did hit Bryony the cellist."
Top Hat is booking at the Aldwych Theatre until 26 January 2013.