John Edwards' betrayed wife 'tore off bra'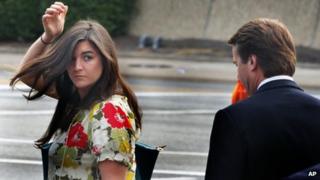 Former US presidential candidate John Edwards' late wife ripped off her shirt and bra in a row with her husband over his affair, a court has heard.
Breast cancer sufferer Elizabeth Edwards also collapsed during the fight in an airport car park, a witness said.
Mr Edwards' daughter left the court in tears during the latest evidence in her father's campaign finance trial.
He denies using donations to hide a pregnant mistress, and faces up to 30 years in jail if convicted.
He could also be hit with $1.5m (£930,000) in fines. Mr Edwards has pleaded not guilty to six counts of campaign finance law violations.
'Doctor called'
His 30-year-old lawyer daughter Cate, who has been seated in the front row for much of the trial, was crying as she left the court in Greensboro, North Carolina, on Wednesday.
Christina Reynolds, a former Edwards communications adviser and friend of his wife, told of the couple's confrontation a day after a supermarket tabloid published an article about his affair.
The National Inquirer had revealed purported details of Mr Edwards' relationship with Rielle Hunter, who became pregnant with his child.
Ms Reynolds, 37, said the row happened at Raleigh-Durham International Airport in North Carolina in October 2007.
The court heard that Mrs Edwards stormed off and collapsed outside a private aircraft hangar.
Ms Reynolds said that she, along with another woman, helped Mrs Edwards get to a bathroom and calmed her down, but Mrs Edwards went outside again to find her husband.
Ms Reynolds said Mrs Edwards had screamed: "You don't see me any more." Then she took off her shirt and bra, exposing herself to her husband in front of his staff, the court heard.
"He didn't have much of a reaction," Ms Reynolds said.
Mrs Edwards had gone through intense treatment for breast cancer before the incident took place. She died in 2010 after a long struggle with the disease.
Ms Reynolds testified that as people rushed to cover Mrs Edwards and get her into a car, she heard Mr Edwards call his wife's doctor for help.
After that he got on a waiting plane and made a scheduled appearance in South Carolina, she said.
Ms Reynolds said the tabloid article was not the first Mrs Edwards knew of the affair.
In the summer of 2007, Mrs Edwards told Ms Reynolds that her husband had confessed to the relationship.