Analysis: An uncomfortable morning for Rupert Murdoch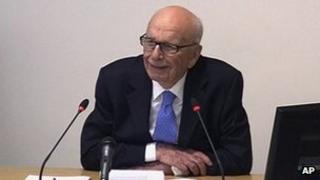 After almost three days of evidence from Rupert and James Murdoch, it is ministers - more than the media bosses - who find themselves on the back foot, and the Leveson Inquiry team who are in control.
Jeremy Hunt, Alex Salmond, David Cameron and the former prime minister Gordon Brown all face difficult questions about their relationships with the Murdochs, which they will soon have to answer under oath.
Some have called it Murdoch's revenge - but in fact it has been orchestrated by Lord Justice Leveson and his legal team. They ordered News Corp to produce the emails and diaries that have caused trouble for the UK and Scottish governments. More documents will emerge in the coming weeks, as politicians take their turn on the stand at the Royal Courts of Justice.
That doesn't mean the Murdochs are out of the woods. Far from it. News Corp remains hugely damaged by the phonehacking scandal, and so does its ruling family - but their Leveson evidence has increased the collateral damage and pushed it closer towards the heart of government.
It was still an uncomfortable morning for Rupert Murdoch.
Answering questions for a second day, he sometimes went on the attack - accusing his critics of telling lies about him. But sometimes he lost his way, and occasionally his cool, having to apologise to Lord Justice Leveson.
He admitted there had been a cover-up over the phonehacking and said that he had failed: "I am very sorry about it. It is a blot on my reputation for the rest of my life".
Yet he portrayed himself and his company as victims, rather than perpetrators, of what had gone wrong. He said the cover-up had emanated from within the News of the World and he had not paid close enough attention.
'Under duress'
When Robert Jay QC suggested "some people" might say News International's response was to cover up rather than expose the scandal, he snapped at him: "People with minds like yours..."
Lord Justice Leveson was clearly shocked and Mr Murdoch immediately apologised - "I take that back." "I've got a thick skin," smiled the QC, knowing he'd scored a point.
Mr Jay scored again when the media mogul admitted he'd been "under duress" after being harassed by a horde of photographers and journalists: "I had another 20 or so outside my apartment this morning."
Lord Justice Leveson picked up the irony of the media boss being troubled by paparazzi: "I think we might come back to that later..."
'Blackmail'
The judge was far less amused by Mr Murdoch's comments about the privacy case brought by the Formula 1 boss Max Mosley, over a story falsely alleging he'd had a "sick Nazi orgy". Mr Mosley received a record £60,000 in damages. In his court ruling, Mr Justice Eady suggested that the News of the World's chief reporter had "made a clear threat" to print a woman's picture unless she co-operated with the paper.
Asked for his comment, Mr Murdoch said he was less shocked by this than Mr Justice Eady, commenting that "a journalist doing a favour for someone in return for a favour is pretty much everyday practice".
Lord Justice Leveson said he found that approach somewhat disturbing: "I don't think Mr Justice Eady is using too strong a word if he described it as a form of blackmail. If it is the culture and practice of the press that this is acceptable and justifiable, then I would like to know that. This is at the very core of part of what we are doing here."
Once again Mr Murdoch apologised, saying he hadn't read the judgement: "But it is a common thing in life, way beyond journalism, for people to say, I will scratch your back if you scratch my back."
Mr Jay pounced again, suggesting that this was exactly what people said about Mr Murdoch and politicians - something he had been denying throughout his evidence.
Mr Murdoch gave a rueful smile.