Only Fools and Horses US remake asks fans for name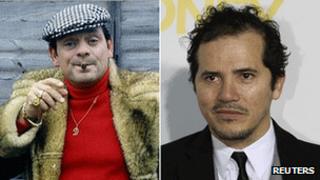 US network ABC has asked viewers for help on what they should call their remake of Only Fools and Horses.
In a message on the Facebook page for Modern Family, ABC asked fans for their opinion on two possible titles, Only Fools or Kings of Van Nuys.
It described the plot of the show as "Two fumbling brothers are just one scheme away from striking it rich".
The US version of the classic British comedy is set to star John Leguizamo in the lead role.
Only Fools And Horses was included as an option for the title in an earlier Facebook poll, but has since been dropped in favour of a shortened version.
Van Nuys is in reference to the Los Angeles district replacing Peckham in the remake.
More than 850 people have voiced their opinion on the pilot's title since the post was made on Tuesday, although many have ignored the two options in favour of their own suggestions including "Fool's Gold" and "Cancelled After Five Episodes".
In February, it was announced that We Bought A Zoo star Dustin Ybarra would be starring as Leguizamo's brother, called Donnie, according to IMDB .
Back To The Future star Christopher Lloyd has also signed on to play the brothers' grandfather, Jackie.
If the pilot is picked up for a full series, it will be broadcast in the US later this year.